As far as mainstream cards are concerned, we're particularly fond of AMD's Radeon HD 4670 - a card that we concluded "has set a new standard in the mainstream discrete graphics-card market by providing a lot - be it 2D or 3D - for not very much".
Today, Sapphire Technology is shipping a revised derivative of AMD's mainstream card, sporting a custom SKU and the addition of GDDR4 memory. GPU clock speed remains at 750MHz, but the upgraded 512MB of memory raise memory clock from an effective 2,000MHz to 2,200MHz. Enough, says Sapphire, to make this the fastest Radeon HD 4670 on the market.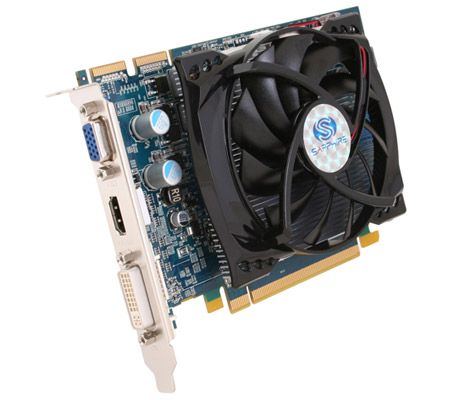 Sapphire's new cooling solution uses a big-ol' fan that promises to keep noise levels below 20dBA, and the card retains its pair of CrossFireX connectors.
What's interesting, though, are the choice of outputs. Highlighting the card's potential as a HTPC component, Sapphire has equipped the upgraded Radeon HD 4670 with VGA, DVI and HDMI - effectively covering all the latest HDTV sets.
We're liking what we're seeing from Sapphire as of late. Its custom Radeon HD 4870 X2 ATOMIC is something interesting for the extreme enthusiast, its in-house designed Radeon HD 4850 X2 offers enormous performance-per-pound for the high-end market and this Radeon HD 4670 GDDR4 should fit very nicely into the mainstream space.
No mention of price just yet, but we'd expect availability in the coming days.
Official press release: GDDR4 BOOSTS SAPPHIRE HD 4670 PERFORMANCE