Kilopass is a leader in embedded NVM intellectual property and strives to expand the horizons of embedded non-volatile memory, to find cost savings and design opportunities. It is a design partner of TSMC, GLOBALFOUNDRIES, IBM, Samsung, and many others. Earlier this week the firm said that it achieved a significant milestone by launching VLT DRAM technology.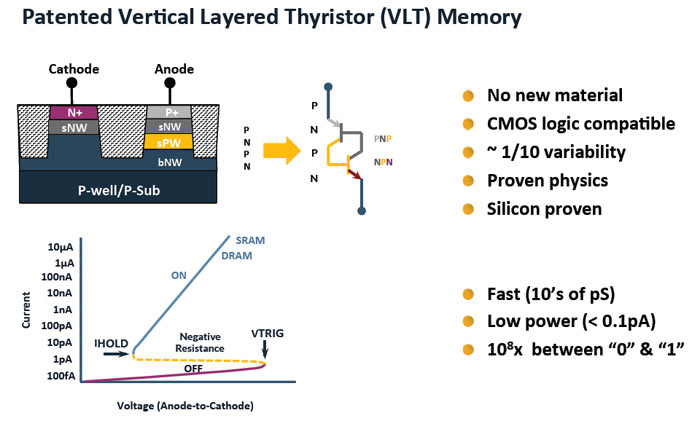 VLT stands for Vertical Layered Thyristor. This new design "eliminates the need for DRAM refresh," and is thus said to offer significant benefits to DRAM available today. Benefits include lower power and better area efficiency – yet it is said to be compatible with existing electronics designs and process technologies. Key claims of the company regarding its VLT memory are that; it can be used for SRAM and DRAM, needs only a tenth of the standby power, will cost half as much as existing memory, needs no refresh, and is based upon a proven silicon bitcell.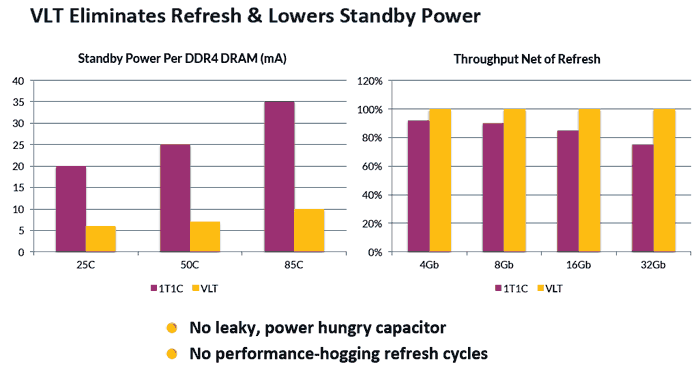 As a bit of background, Kilopass informs us that the thyristor was first invented in the 1950s but previous attempts to use it for memory applications had been unsuccessful. Kilopass implemented the thyristor structure vertically and it is "smaller, shorter, and simpler to make". This key size advantage comes from not needing a capacitor in its fabrication so the firm can sidestep the 1 transistor, 1 capacitor (1T1C) bitcell requirement. It is explained that capacitors are rather unscalable, simply because reducing their physical size reduces their ability to store charge (see diagrams below).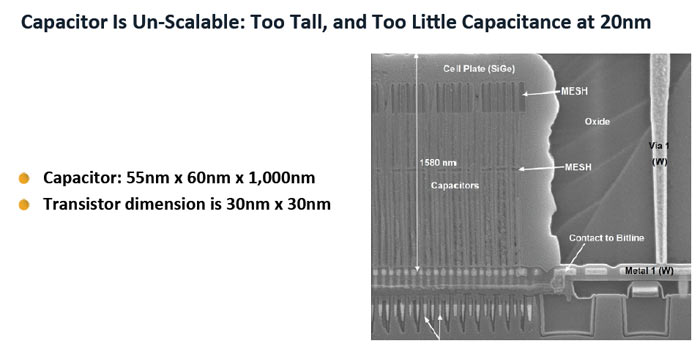 Kilopass will initially target PCs and servers with its VLT DRAM. The new DRAM will be available in test silicon in early 2017 with a commercialisation for VLT technology target of early 2018. VLT DRAM is expected to help slice a good percentage off the energy use of servers and server farms, while providing improved performance.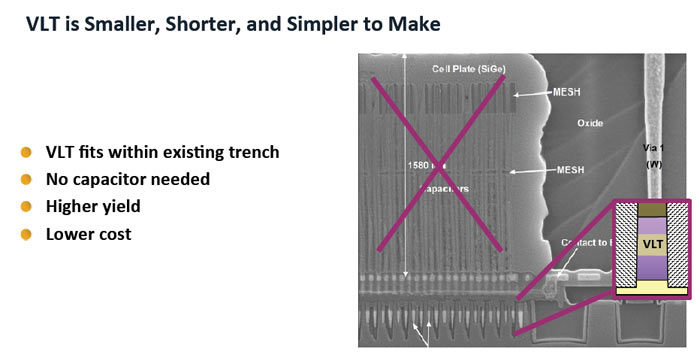 A presentation outlining Kilopass' VLT technology is available to download here (PDF).