AMD launched a range of DDR3-supporting AM3 processors back in February of this year. Using an hybrid memory-controller that is able to interface with either DDR2 or DDR3 memory, AMD reckons that the introduction of the range gives users choice and system-builders extra flexibility. We reckon that the AM3 parts need to ramp up in speed before they become must-have purchases, however.

Low-voltage DDR3 memory packs are already available for Intel's Core i7 chips, usually in the form of three modules packaged together, and the likes of OCZ, Crucial, and Corsair have numerous speed-graded sets on sale.

Now, OCZ is releasing DDR3 packs that have been 'specifically designed' for AMD's AM3 architecture. Quoting from the press release:

"AMD's new AM3 architecture is designed specifically for the gaming community, with emphasis on high data transfer rates between the system memory and the graphics subsystem," commented Dr. Michael Schuette, VP of Technology Development at OCZ. "The key improvement over the AM2 platform is the embracing of DDR3 technology where OCZ has a track record of being a market leader. These new AMD kits further establish our leading role in this category and show our commitment to both industry partners and the gaming community by complementing AMD's gaming platform with future-oriented, low voltage memory technology".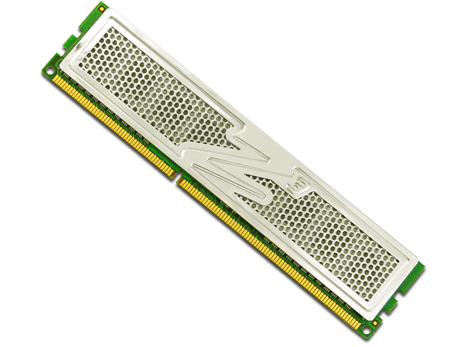 The 4GB packs (2x2GB) are to be released with 1,333MHz (PC3-10,666) and 1,600MHz (PC3-12,800) speeds in both Gold and Platinum models:
OCZ PC3-12800 Platinum AMD Edition Low Voltage (2x2GB) 7-7-7-24 @ 1.65v
OCZ PC3-12800 Gold AMD Edition Low Voltage (2x2GB) 8-8-8-24 @ 1.65v
OCZ PC3-10666 Platinum Low Voltage AMD Edition (2x2GB) 7-7-7-20 @ 1.65v
OCZ PC3-10666 Gold AMD Edition Low Voltage (2x2GB) 9-9-9-20 @ 1.65v
Rated at 1.65V with varying latencies and speeds, the cynic in us reckons that they're just Core i7 kits bundled with two sticks instead of three. Indeed, the equivalent
Core i7 kit (Platinum)
ships with exactly the same timings and voltage.
Whatever the case, a greater number of kits should help push down pricing that little bit more. Prices to be confirmed.