A new report by the Taiwan-based computer industry newshounds at DigiTimes informs us that notebook system builders' first Haswell based products "have mostly been shipped" and are expected to be in retail channels by the end of May. There they will sit until June, when these shiny new notebooks, hybrids, tablets and so-on have been officially unveiled at Computex 2013.
Retailer caution
Retailers have apparently been cautious about pre-orders due to higher prices, according to DigiTimes sources "from the upstream supply chain". Initial shipment quantities will reflect this market caution. This pricing indication is disappointing after all the Intel talk about these Ultrabooks becoming cheaper but it is probably just manufacturers readying their top-end products first - to make the most of early adopter enthu$iasm.
Illustrating this weak retailer confidence, DigiTimes quoted figures from Quanta Computer, Compal Electronics and Wistron. These three notebook manufacturers' most recent figures show notebook shipments down 17 per cent, 11 per cent and 21 per cent respectively.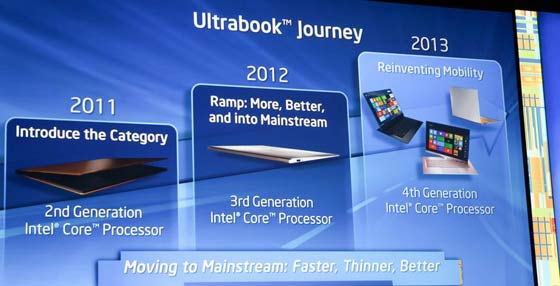 Dixons rep demos a Sony slider convertible Haswell based PC?
In related news PCWorld magazine thinks that it may have spotted the first production Haswell notebook "in the wild". A blurry, low res training video shows a Dixons rep demonstrating what appears to be a Sony VAIO Dual 13.3-inch convertible – a yet to be released big brother to the similar 11-incher from last year.
This convertible does look very sleek and modern. However the PCWorld reporter thinks that the specs flashed across the screen at the end of the video reveal that this new Sony slider will be Haswell based – based on the battery life quoted in the video.
You see this 13.3-incher has a quoted battery life of ten hours compared to only five for the 11-inch version, released in October last year. Of course it might just have a bigger battery, being a bigger machine – for instance the Apple MacBook Air 13 (Mid 2012) has almost 50 per cent more battery life than the 11-inch (Mid 2012) version. Also the 10-hours figure in the Dixons video could be more aspirational than actual.