Samsung has announced a refresh to its Series 7 Gamer laptop. The updated laptop offers a significant boost in both CPU and GPU departments. The CPU has been upgraded from a Sandy Bridge Intel Core i7-2670QM to an Ivy Bridge architecture Intel Core i7-3610QM CPU. The graphic acceleration is now catered for by an AMD Radeon HD7870M 2GB powering the 17.3" 1080p 3D "SuperBright" LED screen. Previously an AMD Radeon HD6970M 2GB pushed the pixels.
Something else about this new updated gaming machine you can't have failed to notice in the Samsung Social Media News Release is the bright yellow paint job. If you don't like yellow that much, perhaps you associate the colour more with a New York taxi than a Lamborghini or Ferrari. (If you want to carry this machine around you may want to call a taxi as it weighs in at nearly 4Kg.) It's hinted at in the name, the Series 7 Gamer Yellow 3D, that this laptop will be available in another colour or two made available later.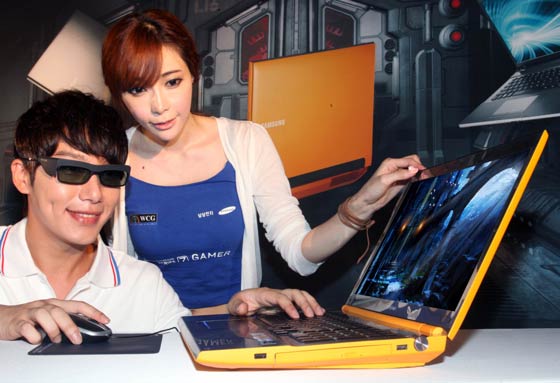 The new configuration for this Series 7 gaming machine sees the integration of that most favoured of PC upgrades; an SSD drive. Rather than the previous Series 7 Gamers' 1.5TB drive Samsung have opted for a more balanced capacity/performance ratio by supplying a 1TB HDD and a 128GB SSD combination. The SSD brings the boot time for this machine down to 11.37 seconds and of course is of further great benefit after booting.
The 3D LED SuperBright 400nit display is a great upgrade for watching the latest 3D Blu-ray titles even though the laptop is "optimized for gaming enthusiasts". Rounding off the system is a decent 8GB of DDR3 RAM.
The Series 7 Gamer Yellow 3D is available in its South Korean homeland tomorrow priced at just under 3 million won (£1,700). The current model is available in the UK for around £1,200 (RRP £1,500). The higher price of the upgrade/refresh model might be due to the extra 3D features and SSD but we will see when (if) it hits retailers over here.