Whitebox laptop-maker Clevo is now shipping its latest and greatest desktop-replacement laptop. Powered by NVIDIA's GeForce GTX480M, the WUC880 claims to be the world's first mobile PC featuring a Fermi graphics chip.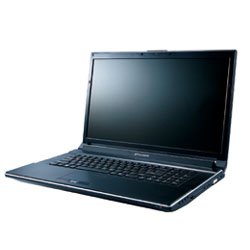 The almighty laptop can be equipped with enough power to make even some desktops blush. The chassis can handle the latest mobile Intel Core 2010 CPUs, including the 2GHz i7 920XM, and up to 8GB of DDR3-1,333. There is also support for two 2.5in hard drives in a Raid configuration and the option of a 17.3in screen with either a 1,920x1,080 or 1,600x900 resolution.

The real star of the show is the GTX 480M graphics chip though. While not quite as powerful as its desktop namesake, the GPU has a 425MHz core, 352 cores clocked at 850MHz and 2GB GDDR5 at 2,400MHz. This makes the card closer in performance to an underclocked GTX 465 and looks to be the most powerful mobile graphics chip available today. This GPU should provide more than enough grunt to cut through the latest games with ease, even at high settings.

The remainder of the spec sheet reads like a shopping list, featuring almost every conceivable connectivity option. USB 3.0 and eSATA make an appearance alongside USB 2.0, FireWire, DVI, HDMI, ExpressCard, 802.11n WiFi, Gigabit Ethernet and even a modem port. The laptop can even be configured with a TV tuner and fingerprint reader, as well.

While this portable PC certainly has the power for mobile gaming, don't expect the battery to last for too long. Clevo claims a 90-minute battery life, though even that sounds optimistic when this beast is running at full tilt.

For those interested, Avadirect is now offering systems based on this chassis starting at around $2,300 (around £1,800 including VAT), and we expect more system builders to offer the laptop soon. If you're looking for the pinnacle of mobile gaming, it appears that, for the time being, this seems to be it.