There's already some controversy over what actually is the world's thinnest notebook, but it looks as though Dell is preparing to put any doubts to rest with an upcoming Adamo system that measures just 9.99mm thick.
Details are scarce (and we mean very scarce) but a teaser page at adamobydell.com shows what could be a silver Biro or an ultra-thin notebook. We reckon it's the latter.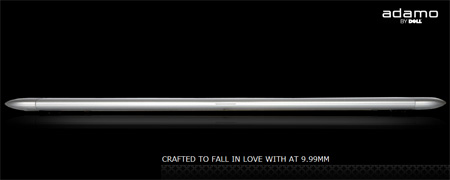 Readers who've been keeping track of ultra-thin notebooks will be aware that Apple got us underway with the January '08 arrival of the MacBook Air - a system that measures 19.4mm at its thickest point. Going one better, Dell introduced its 16.5mm-thick Adamo notebook in March '09.
The new Adamo looks set to eclipse anything before it by measuring under 10mm thick, but whether or not the 9.99mm measurement is at its thickest point remains to be seen. There's no mention of specification, availability or pricing yet, but we wonder how badly Dell will have had to compromise performance in order to achieve such slim dimensions?