Samsung is set to revamp its netbook range with the launch of its N110 and N120 notebooks, a pair of Atom-based successors to the older NC10 and NC20.
Featuring 10.1in screens, both the N110 and N120 will offer the familiar Intel Atom-based innards that we've all become accustomed to - namely the 1.6GHz Atom N270 processor. Helping differentiate the new models, however, is the promise of "extended battery life and ultra lightweight design".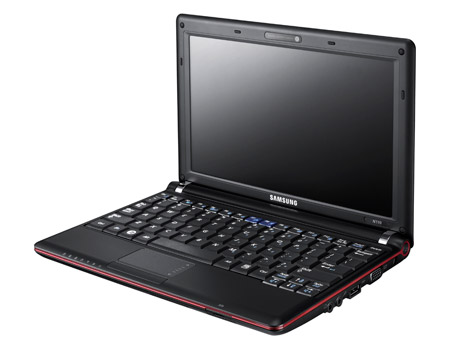 Samsung's N110 - although similar in appearance to the erstwhile NC10 - will be available in a choice of colours and sports a six-cell battery that claims to offer over nine hours of on-the-go operation. Dubbed as a design for "optimum mobility", the entire system will weigh just 1.26kg and, as with the range-topping N310, its keyboard will be coated with a special finish that makes it almost impossible for bacteria to live and breed.
The N120 - presumably a replacement for the VIA Nano-powered NC20 - will also be powered by Intel's Atom processor and features the same 10.1in screen. Aiming for "optimum usability", it squeezes in a larger 12in keyboard, larger touchpad and a 2.1 sound system comprising of two 1.5W stereo speakers and a dedicated subwoofer.
The aforementioned enhancements aren't at the expense of battery life, either, with Samsung claiming that the N120's six-cell battery will provide up to 10.5 hours of operation from a single charge.
Both systems are expected to be available in April, with the N110 priced at around $469. Pricing for the N120 is yet to be revealed, but if Samsung's battery life claims hold true, these could quickly become popular netbooks choices.
Official press releases:
Extended battery life and ultra lightweight design keep you going for longer
Full size keyboard and enhanced sound system set a new standard in mini notebooks