MSI has officially announced its latest Wind netbook, the U110 ECO. The ultra-portable system, pictured below, sports a 10in 1,204x600 display, and might be mistaken for an everyday netbook due to its familiar aesthetics.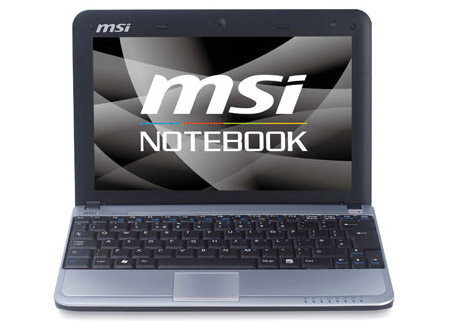 However, if you're tiring of all the similar-spec netbooks on offer, fear not, this one's just a little different. First and foremost, MSI claims that the Wind U110 ECO will keep chugging along nicely for nine hours when equipped with the optional six-cell battery.
That running time doesn't appear to be at the expense of performance, either. Inside the system is an unusual choice of netbook components. At its heart lies a 1.6GHz Intel Atom Z530 processor, a Silverthorne part that when coupled with the Poulsbo US15W chipset forms Intel's Menlow platform.
Whilst that isn't likely to have an impact on performance scores when compared to the traditional 1.6GHz Intel Atom N270, what will help is the inclusion of ATI Mobility Radeon HD 3200 graphics. Offering a vast improvement over Intel's integrated graphics, the ATI Mobility Radeon HD 3200 should make light work of HD media playback. That's coupled with the usual 1GB of DDR2 memory and 160GB 2.5in hard drive.
Elsewhere, it has everything you'd expect to find in a Wind netbook - including a webcam, wireless b/g/n, three USB ports, Gigabit Ethernet, VGA out, a four-in-one card reader and built-in stereo speakers.
Looks a promising little option, but we've yet to receive word on pricing.
Official press release: MSI Launch The World's Power Saving No.1 Netbook - U110 ECO