Tightening its grip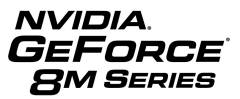 NVIDIA's stranglehold over AMD/ATI looks set to tighten with today's introduction of the GeForce 8M Series graphics processors for portable PCs.



This powerful, yet power-saving, new-generation family should start appearing in a handful of computers in the next few days but be offered in a wide range before the end of the month.

However, until the introduction of revised drivers in June that are compatible with Windows XP, GeForce 8M Series will only work under Windows Vista.

As our reviews have already shown, NVIDIA's new-generation desktop GPUs have proven themselves able to deal with the demands of today's latest PCs and those expected to be appearing on the horizon.

From the demos we've seen and the avalanche of paperwork NVIDIA has thrown at us, much the same is likely to now be true with GeForce 8M Series on mobile computers.

These mobile GPUs can handle DirectX 10 - which will be vital for getting the best out of many new games arriving this year - along with the extensive graphic needs of Windows Vista Premium. They can also easily run demanding 3D and imaging apps that have moved into the mainstream, such as Microsoft Maps, Google Earth and Google Picasa.

In some areas, performance is said to be twice that of NVIDIA's previous-generation laptop GPUs – even though that family of products, the company claims, has already reversed its traditionally weak showing in discrete laptop GPUs where the company now takes a 58 per cent market share.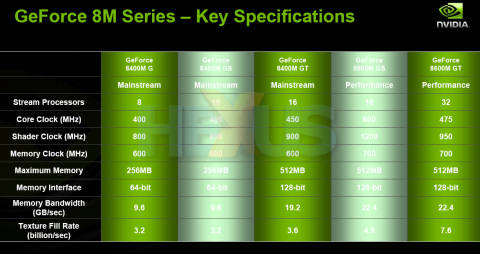 Long-term, perhaps the most significant claim that's made for GeForce 8M Series is that it contains the first video processor to completely offload video decoding of Blu-ray Disc and HD DVD high-definition movies from the PC's CPU - whether movies are encoded in H.264 or VC-1. And the same off-loading ability is also claimed for MPEG-2 footage such as used with standard-definition DVDs.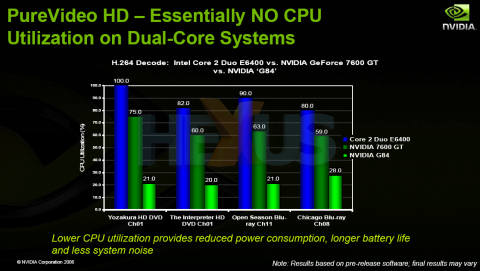 One upshot is that this allows the seamless playback of movies of the two competing high-def DVD formats on laptop PCs - even at the very highest possible data rates - and does so, the company reckons, on computers with single-core CPUs, not just dual-core or better!

And, according to NVIDIA, this isn't something that restricted to expensive versions of its new GPU family. It will be included even in bread-and-butter products that are integrated into motherboards, as well higher-end GPUs that come on industry-standard slot-in modules that NVIDIA itself calls MXM.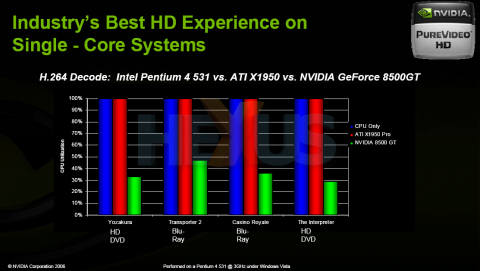 Similar performance is claimed with some other hi-def sources including the AVCHD camcorder format and certain, unspecified, HD movie downloads - though not yet for the first consumer HD camcorder format HDV.

Naturally, Blu-ray or HD DVD playback still requires a suitable disc player and player software but it's very likely that upcoming laptop PCs with GeForce 8M Series GPUs will have what's necessary ready installed or available as optional extras.

Movie-watching on laptop PCs is becoming ever more important for those who use their machines on the road but it's a serious battery-killer. According to NVIDIA, though, its new technology means that portable PCs will run for considerably longer than when video footage is not handled by an integrated NVIDIA PureVideo HD video-processing engine.

This is in part because the GPU itself consumers less power than a CPU that's being heavily used. But NVIDIA also includes power-saving technology that it calls PowerMizer and says "intelligently balances the user's need for longer battery life and performance".

And, of course, by removing the load from the CPU, NVIDIA GPU technology should mean that the PC can run multiple applications and switch between them - without the sensation of wading through treacle.

Until we actually get product in the lab to test, we're reluctant to go totally mad for GeForce 8M Series. However, the dems we've seen were

extremely

persuasive.

Check out the next page to see further diagrams explaining the technology and the company's claims, then comment in the HEXUS.community.


HEXUS.links
HEXUS.community :: discussion thread about this article
HEXUS.press releases :: NVIDIA Redefines The Notebook PC

HEXUS.reviews :: ECS N8600GTS-256MX+
HEXUS.reviews :: NVIDIA GeForce 8800 Ultra
HEXUS.reviews :: ASUS EN8800GTX AquaTank - the fastest graphics card in the world?
HEXUS.reviews :: MSI GeForce 8600GTS - the new mid-range champion?
HEXUS.reviews :: ECS GeForce 8800 GTS 320 graphics card - yours for £180
HEXUS.reviews :: Shootout at the 8800 GTX corral: ECS vs OCZ...
HEXUS.reviews :: Foxconn GeForce 8800 GTS 320MB O.C.
HEXUS.reviews :: XFX GeForce 8800 GTS XXX Editions compared - 320MB vs 640MB
HEXUS.reviews :: XFX GeForce 8800 GTX 768MB DDR3 XXX Edition
HEXUS.reviews :: Inno3D iChiLL 7900GS Arctic Cooling Silencer 6
HEXUS.reviews :: ASUS EN8800GTS GeForce 8800 GTS 640MB graphics card

HEXUS.reviews :: 3-way passively-cooled midrange shootout. Sapphire vs HIS vs XFX

HEXUS.reviews :: GeCube Radeon X1950 Pro 512MB GDDR3 FZ Cool Fan HDCP Edition
HEXUS.reviews :: ASUS EAX1950PRO HDTP/256M - the best yet?
HEXUS.reviews :: HIS X1950Pro IceQ 3 Turbo review
HEXUS.reviews :: Sapphire X1950 Pro Dual 1GiB

External.links
NVIDIA - GeForce 8M Series home page