The specs and a retail listing for an Nvidia GeForce GTX Titan 'Black Edition' have been listed on a Finnish online retail website, reports VideoCardz. This 'Black Edition' video card is said to employ the full GK110 GPU, as used in Nvidia's GTX780 Ti, but with more memory (6GB) and full double-precision floating point GPGPU performance.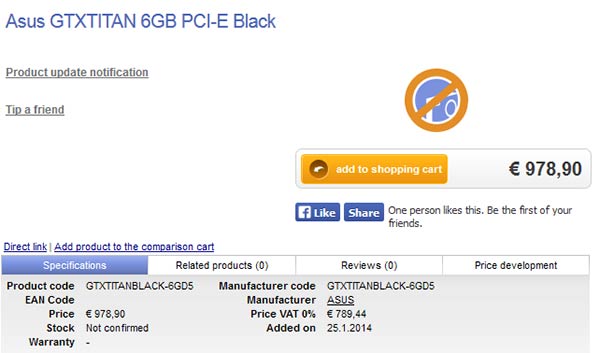 The Finnish retailer, Multitronic Webshop, lists the "Asus GTXTITAN 6GB PCI-E Black" at €978,90 including applicable taxes. Before VAT that price is €789,44 - equivalent to US$1,078 today. So in the US the Black edition of the Titan could very probably be listed at $999, replacing the current GTX Titan at that price point. VideoCardz says that the new Titan will be launched "very soon... two or three weeks". Apparently Nvidia and partners are waiting for the stock depletion of the original Titan card.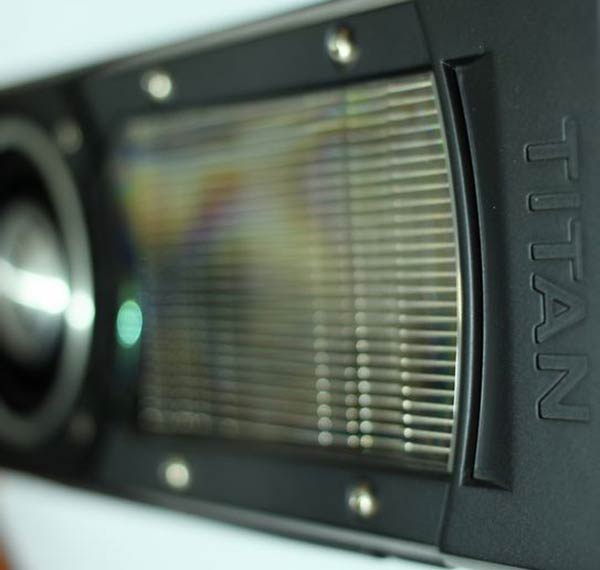 Another three graphics cards to be launched by Nvidia shortly are also named and outlined by VideoCardz sources, it says the complete launch roster will be as follows:
GeForce GTX TITAN BLACK Edition 6GB, GK110, 2880 CUDAs
GeForce GTX 790 6GB, 2xGK110, 2x 2496/2880 CUDAs
GeForce GTX 750 Ti 2GB, GK106 (GM106), 960 CUDAs
GeForce GTX 750 1GB, GK107 (GM107), 384 CUDAs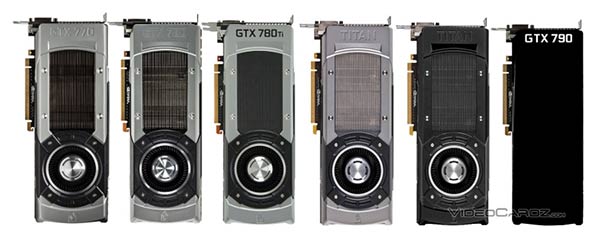 The second card listed in the bullet points above, the GeForce GTX 790 6GB with dual GK110 GPUs, has also been listed on a web retailer, this time in Russia. It is priced at approximately US$1,400. The specs including the fewer CUDA cores enabled are thought to have been sliced to keep the card's TDP below 300 watts.
When (or if) these graphics cards do emerge rest assured they will be thoroughly tested in the HEXUS labs and results published here as soon as Nvidia allows it.