The first new Kepler based graphic cards for OEMs have been released. There are 5 new cards slotted haphazardly into the series. However these 5 different cards share just three model number. Please look at the table below to see the new models and their differences, I was going to say 'at a glance' but it's much more confusing than that.
GT 645

GT 640

GT 640

GT 640

GT 630

Architecture

Fermi GF114

Kepler GK107

Fermi GF116

Kepler GK107

Kepler GK107

Stream Processors

288

384

144

384

384

Texture Units

48

32

24

32

32

ROPs

24

16

16

16

16

Core Clock

776MHz

950MHz

720MHz

797MHz

875MHz

Shader Clock

1552MHz

950MHz

1440MHz

797MHz

875MHz

Memory Bandwidth

91.9 Gb/s

80 Gb/s

43 Gb/s

28.4 Gb/s

28.5 Gb/s

Frame Buffer

1GB
GDDR5

1GB/2GB
GDDR5

1.5GB/3GB
DDR3

1GB/2GB
DDR3

1GB/2GB
DDR3

GPU

GF114

GK107

GF116

GK107

GK107

Manufacturing Process

TSMC 40nm

TSMC 28nm

TSMC 40nm

TSMC 28nm

TSMC 28nm

TDP

140W

75W

75W

50W

50W
Taking the cards in turn:
GT 645, based on the previous generation Fermi core is essentially a rebranded GTX 560 SE card. Memory bandwidth is helped along by the GDDR5 clocked at 1914 MHz. The specification lists it as a 128-bit memory interface but this is probably a typo as everything else is the same as the GTX 560 SE. This is a dual slot cooler model.
GT 640, there's 3 versions of this card, all sport a dual slot cooling solution but there is a wide range of differences in these cards architectures and performance, best illustrated by the table above.
GT 630, is a single slot Kepler based card, it's got a nearly 10 per cent faster core clock than the nearest GT640 model but the memory bandwidth is listed at almost exactly the same figure. With all else seemingly equal including memory type and interface width of 128-bit this is confusing.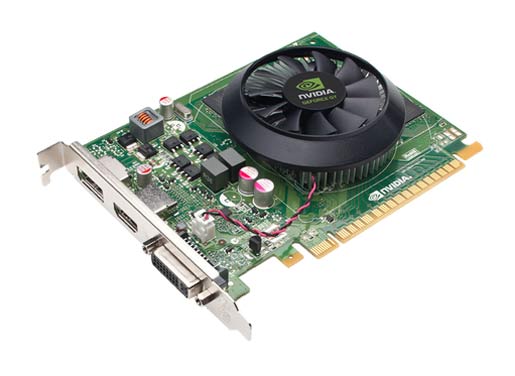 A GeForce GT 640 yesterday.
Other recent additions to the OEM line-up were the entry level GT 605 and GT 620, are also re-brands, basically higher clock speed versions of the GT 510 and GT 520.
These OEM cards are really going to confuse brand name PC buyers with all the flavours of GT 640 available on top of other variables that are sometimes and sometimes not listed on the side of the system box/on the retailer's website. If you are tempted by the sleek lines and convenience of a pre-assembled PC you will have to do a good bit of research to know exactly what you are buying.