Well what do we have here?
The rumoured GeForce GTX 580 has just shown up on NVIDIA's website (though the page has since been altered to remove the reference) in the section listing 3D Vision system requirements, perched atop a list of current video cards. Though it's listed under 'GeForce 500 Series', there are no other cards from the 500-family, suggesting that it's likely to launch alone.
Unfortunately, there are absolutely no details as to what might power the card, though it does give credence to the rumours from last week that this monster of a GPU might become a reality. Reports are currently conflicting as to what the chip might be, with some claiming that it'll simply be a full-featured GF100 core and others suspecting a tweaked core codenamed GF110 that will herald a new line of Fermi-derrived GPUs.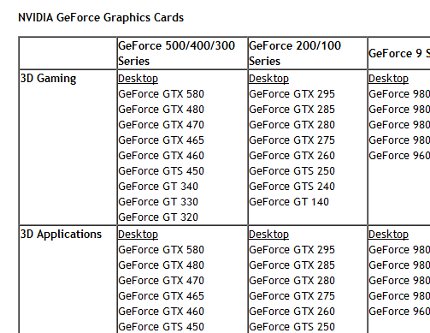 If we were cynics, we'd think that this 'accident' was a move to draw attention away from AMD ahead of the launch of the Radeon 6000-series. While this - combined with the now confirmed GTX 460 and GTX 470 price drops earlier today - will certainly generate a fair bit of coverage, it's unlikely to deter the media storm that will surround the launch of the new family of Radeon GPUs.
Nonetheless, it's a sly move by NVIDIA that will, at the very least, have the fanboys salivating at the prospect of an ultra-powerful Fermi GPU.