ZOTAC GeForce GTX 295
In case you missed it amid all the goings on at CES 2009, NVIDIA just launched the GeForce GTX 295 - a graphics card that has stripped AMD's Radeon HD 4870 X2 of the single-card performance crown.
Unlike other recent graphics card launches, NVIDIA's new champ is actually available to buy, with a number of retailers already showing stock - albeit at potentially inflated launch-day prices.
As you'd expect, NVIDIA's long list of partners are queueing up to get their chunk of the pie, and though we've yet to see a pre-overclocked model, Hong Kong's ZOTAC is fresh out the gate with a better-looking GeForce GTX 295 bundle.
Available in the U.S. from NewEgg.com at a cost of $499, ZOTAC's GeForce GTX 295 comes bundled with Race Driver: GRID. We're firm believers that any enthusiast-grade graphics card should ship with at least one gaming title, and ZOTAC doesn't disappoint.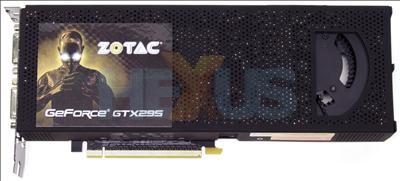 As with our reviewed card, ZOTAC's offering offers reference clock speeds of 576MHz core, 1,242MHz for the 480 shaders and 1,998MHz for the 1,792MB of GDDR3 memory.
To find out more about GeForce GTX 295 performance, please refer to our in-depth review. Additional images of ZOTAC's card are available on page two.
Official press release: ZOTAC Unveils Dual GPU Graphics Card