If you're looking for a Radeon HD 4870 graphics card that's a little sleeker than AMD's reference design, GIGABYTE's GV-R487D5-1GD could be just what you're after.
The recently launched graphics card is built on AMD's Radeon HD 4870 GPU but carries an in-house design that makes use of GIGABYTE's Ultra Durable 2 feature set - meaning high-quality power-efficient components - and throws in DVI, HDMI and DisplayPort connectivity.
In addition to the useful trio of connectivity options, there's 1GB of on-board GDDR5 memory and a custom heatsink and fan to help keep it all cool.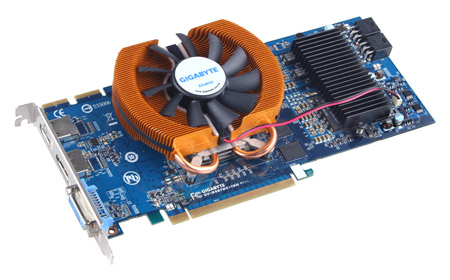 GIGABYTE has thus far failed to mention actual clock speeds, so we'll assume they're at AMD's reference levels - that's 750MHz and 1,800MHz for core and effective memory, respectively.
No word on pricing, either, but it shouldn't be long until this one reaches retail.
Official press release: GIGABYTE Presents DisplayPort Ready Radeon™ HD 4870 Graphics Card