Under a month after the launch of the range-topping Quadro FX 5800, NVIDIA is introducing a slightly lesser alternative in the form of the Quadro FX 4800.
Unlike the GTX 280-based Quadro FX 5800, the Quadro FX 4800 takes its architectural cues from the GTX 260 GPU. What's interesting, is that the Quadro FX 4800 reverts to the old 192-core design, as opposed to the newer 216-core design used in recent desktop graphics cards.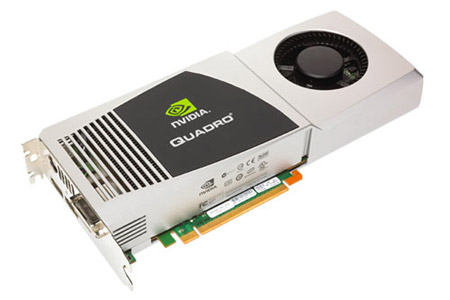 Specifically designed for professional use - mechanical computer-aided design (MCAD), digital content creation (DCC) and broadcast applications, for example, says NVIDIA - the card packs 1.5GB of memory and is capable of fill rates of 38 billion texels per second.
That's noticeably less than the 52 billion texels per second achieved by the Quadro FX 5800, but then the Quadro FX 4800 is nearly half the price - it's available as of today at a MSRP of $1,999 from PNY, Leadtek and Elsa.
Further details can be found on the official product page: www.nvidia.com/quadro.
Official press release: NVIDIA TRANSFORMS HIGH-END VISUALIZATION WITH NEW QUADRO FX 4800 GRAPHICS CARD