Thermaltake has announced a new non-interference cooler (NiC) design which addresses the problem of the coexistence of high performance RAM and CPU coolers. The NiC L31 / NiC L32 aid the deployment of high-end overclocked RAM in a confined system area. They works simply as you can see from the pictures; a low profile PWM fan and heatpipe design pushes air over the RAM chips in your system.
The Taipei, Taiwan based PC accessories maker promises that the new NiC L31 / NiC L32 raises the NiC cooling bar "another level towards silence, performance and compatibility". These new coolers are developments from Thermaltake's previous F3, F4, C4, and C5 coolers.
The non-interference design cools the RAM chip installation area and motherboard and Thermaltake says it is "fully compatible with RAM of all kinds, ideally for power users to fill their RAM slots with high-end overclocked RAM".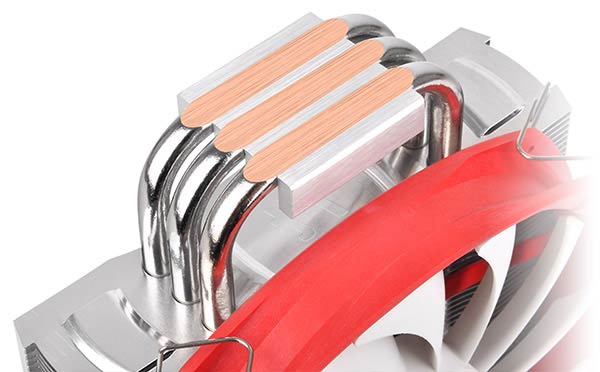 Looking at the CPU cooling side of the equation; the cooler is constructed using three 8mm copper heatpipes and clad in aluminium fins. The 140mm PWM controlled fan spins at between 500 and 1,800rpm. The 140mm tall NiC L31 is capable of cooling up to 160W and the 160mm tall NiC L32 up to 180W. Air flow provided by the L31 is 71CFM and the L32 can push over 104CFM.
P/N

NiC L32 CL-P002-AL14RE-A

NiC L31 CL-P001-AL12RE-A

Compatibility

Intel LGA
2011/1366/1155/1156/1150/775
AMD
FM2/FM1/AM3+/AM3/AM2+/AM2

Intel LGA 2011/1366/1155/1156/1150/775
AMD FM2/FM1/AM3+/AM3/AM2+/AM2

Heatsink Dimension

160H*150W*40L mm

140H*128W*40L mm

Heatsink Material

Aluminum Fins
Copper Heatpipes

Aluminum Fins
Copper Heatpipes

Heatpipe

Φ8mm x 3 pcs

Φ8mm x 3 pcs

Fan Dimension

140 x 140 x 25 mm(L xW x H)

120 x 120 x 25 mm(L xW x H)

Fan quantity

1pcs

1pcs

Fan Speed

500-1800RPM

500-1800RPM

Rated Voltage

12V

12V

Start Voltage

6V

6V

Rated Current

0.5A

0.2A

Power Input

7.2W

2.88W

Air Flow

104.4CFM

70.99CFM

Air Pressure

2.11 MM-H2O

1.8 MM-H2O

Noise

18.0~ 38.4 dBA

18.0~ 34.8 dBA

Life time/Fan Life time

50,000 hours

50,000 hours

Fan control

PWM

PWM

pin connect

4 pin

4 pin

Cooling Power

180W

160W

Weight

620g

530g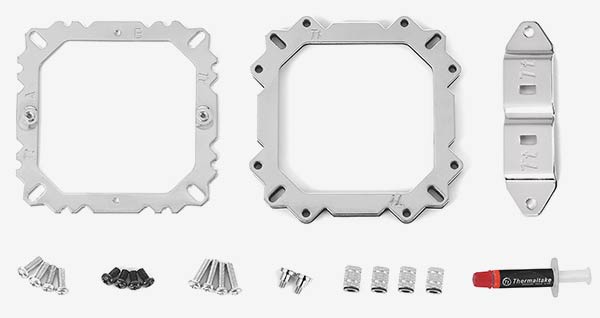 Thermaltake informs us an additional fan can be added to either of the new NiC designs if the user requires it. We weren't informed of recommended pricing or the dates these NiCs will be available to purchase. However looking at earlier similar Thermaltake NiC designs I'd expect the prices to be in the region of £35 upwards.