Crystal ball time.
IQ



Here's a geek-oriented mini-IQ test. What comes next in the following sequence: 5870, 5850,.....?

The answer is 5770, as that's the nomenclature attached to the next GPU to be released by AMD in the very near future.

Soon to be a part of the DX11-totin' 5-series range, Radeon HD 5770 aims to bring RV870 goodness to the masses.

Looking back on the last week, Radeon HD 5870 (£300) and Radeon HD 5850 (£200) have been launched to tempt gamers into spending large amounts of change on GPUs, so the question remains as to how the CPU-and-graphics giant will snip pricing to levels that are more palatable for the proletariat



Juniper



We reckon the 'Juniper' HD 5770 will come in at less than $200 (£150). Let's conjecture on what needs to happen for AMD and its partners to hit that price point and for everyone (bar NVIDIA, of course) to be happy.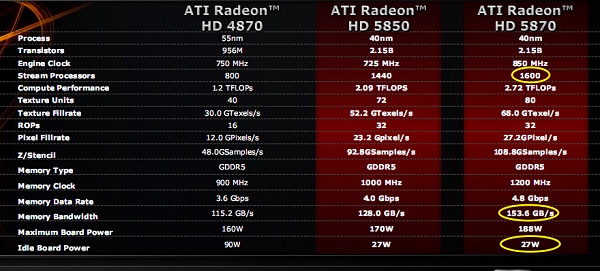 Image courtesy of AMD
Rumours are abound that the HD 5870's guts will be harvested such that 1,120 Stream Processors - 14 blocks of 80 - remain intact from the full-fat card. Assuming this is true, ripping out six SIMD arrays will lead to the texturing units dropping to 56.

An age-old method of reducing costs is to snip the memory-interface width. We'd bet on a 192-bit bus supplanting the 256-bit on the HD 58xx GPUs. Now we're at it, snipping the frame-buffer to 768MBs of GDDR5 doesn't sound like a bad idea, either.

Putting ourselves in AMD's shoes, we'd keep this architecture and clock it in lower for the Radeon HD 5750, priced at around £115. If we're really nasty, we'd chop bandwidth to 128 bits, but that's probably the preserve of the Radeon HD 55xx GPU.

What would it look like? If the Radeon HD 4770 is anything go by, a smaller, quieter single-slot cooler would be, literally, cool.

Product line-up headaches

Should the Radeon HD 57x0 GPUs come to pass quickly, we wonder what AIBs will do with stock of Radeon HD 4890 GPUs. We'd hazard that the new mid-range 5-series GPUs will be touch quicker on a comparable price-to-price basis, yet ship with a fuller feature-set, including way better multi-monitor support, and lower power-draw.

Let's see how much of this come true, because, folks, the architecture can be pared in only so many ways.

Would you buy a 'Radeon HD 5770' at £150 if it shipped with the credentials listed above? We'd love to find out.