Throwing more transistors into a smaller die will typically have a positive impact on performance, but with the Radeon HD 7000 Series AMD has opted to refine this brute force with a range of advanced technologies that are designed to utilise the available power more efficiently than ever before.
GCN: Made to Compute
AMD Radeon graphics cards have historically offered extreme PC gaming performance, but with the HD 7000 series, a new GCN architecture has been utilised to make each and every Radeon a better multi-purpose processor. After all, today's GPUs aren't just about pushing pixels.
Using a brand-new design, each Radeon HD 7000 series compute unit features a massive 64 processors as well as a scalar coprocessor that makes the 28nm GPU better equipped to deal with workloads traditionally carried out on the CPU. This enhanced capability gives developers new possibilities through common GPU-aware programming languages such as OpenCL, and paves the way for a new wave of GPU-accelerated apps.
The end result? Practically no impact on game performance and a dramatic increase in compute performance.
DirectX 11.1: Ready for Windows 8
The Radeon HD 7000 Series uses a forward-looking design that is fully compatible with the latest DirectX 11.1 application programming interface.
Soon to be introduced as an integral component of Microsoft's Windows 8 operating system, DirectX 11.1 will offer enhanced performance through larger shader buffers, new audio and input APIs, and built-in support for stereoscopic 3D.
AMD's GCN architecture is built to take full advantage of these enhancements, and when DirectX 11.1 games arrive on the market, a Radeon HD 7000 Series graphics card will be prepared to bring next-generation visuals to life.
HD3D: Ready for the Third Dimension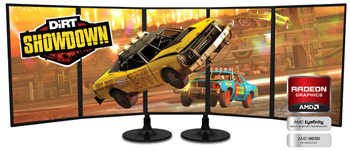 AMD HD3D* is a technology designed to enable stereoscopic 3D support in a wide range of content ranging from games, movies and photos, and it is built into every Radeon HD 7000 Series graphics card.
Designed as an open platform that supports various hardware components, HD3D gives consumers the ability to choose from a wide array of TVs and 3D monitors. Using the power of a Radeon processor and a HD3D driver, the graphics card is able to output two overlapping images - one for the left eye, one for the right - to give the appearance of breathtaking 3D.
And, by producing an API that adheres to open standards, AMD's HD3D enables third-party partners such as TriDef 3D and iZ3D to convert hundreds of games from monoscopic 2D to stereoscopic 3D.
*Requires a HD3D-enabled Radeon graphics card, 3D stereo drivers, 3D glasses, and a 3D-capable display
Eyefinity: Multiple Displays Made Easy
AMD graphics cards are your one-stop solution to powering multiple independent displays. With integrated Eyefinity technology, consumers can run up to six simultaneous displays off of a single Radeon HD 7000 Series graphics card.
This unique flexibility is extended across the entire Radeon HD 7000 Series range, with many of AMD's reference designs including one DVI port, one HDMI port and two Mini DisplayPorts. Connecting multiple monitors to these outputs is easy, but there are a few rules to remember; the first two monitors can connect to any of the aforementioned outputs, but the third monitor (or any additional) must be connected via DisplayPort.
Using DisplayPort can also allow Radeon HD 7000 Series graphics cards to power multiple displays from one output using a feature called Multi-Stream Transport (MST), which enables consumers to daisy-chain up to three monitors from a single DisplayPort using an MST-capable hub.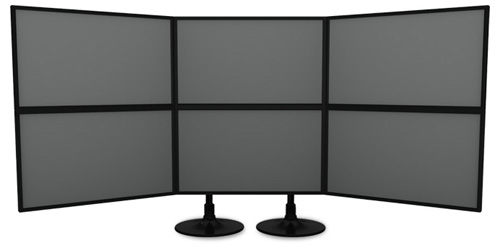 If you don't yet have a DisplayPort-capable monitor, DVI-to-DisplayPort adapters are widely available, and many of AMD's partners have adapted Eyefinity technology to suit the varying requirements of the end-user. Sapphire's Flex Edition cards, for example, uses a non-reference configuration that allows three monitors to be connected via DVI.
Using an exclusive Single Large Surface (SLS) mode, today's latest games can use multiple monitors in an Eyefinity configuration to deliver a seamless high-resolution experience that has to be seen to be believed. And gamers aren't the only ones to benefit, as AMD FirePro products are equipped with the same Eyefinity technology to help drive productivity in professional environments.
CrossFireX: The Power of Multiple GPUs

AMD CrossFireX technology enables two or more discrete graphics processors to work together to improve system performance. Using a simple CrossFireX Bridge Interconnect and a compatible motherboard, it allows multiple graphics cards to function as one and deliver an unprecedented level of power and performance.
Providing even more flexibility, AMD has also ensured that each card in a CrossFireX configuration needn't be identical. As long as each card is from the same 7x series, you're good to go; so there's nothing stopping you from pairing a Radeon HD 7970 with a Radeon HD 7950, or even a Radeon HD 7850 with a Radeon HD 7870.
CrossFireX technology makes it easy to double, triple or quadruple your PC's graphics performance, and AMD regularly releases software updates that enable the latest games and applications to efficiently harness the power of multiple GPUs.
ZeroCore: A New Level of Efficiency
The power of a Radeon HD 7000 Series GPU gives consumers outstanding performance, but the sheer speed doesn't have to come at the expense of the electricity bill.
With the revolutionary GCN architecture, AMD has introduced an exclusive ZeroCore power technology that takes idle GPU efficiency to a whole new level.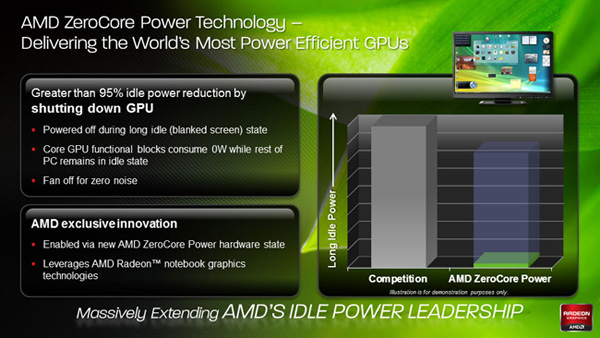 Whereas most GPUs will reduce power consumption when in an 'idle state' (i.e. when you're carrying out tasks that aren't GPU-intensive such as word processing), the Radeon HD 7000 Series uses ZeroCore power technology to determine when the PC is in a 'long idle state' (i.e. when your monitor is off).
This clever technology effectively allows the GPU and its associated fans to switch off, and the benefits of ZeroCore are even more profound in CrossFireX configurations; where additional GPUs will stay asleep until needed, helping conserve power and minimise system heat.
PowerTune with Boost Technology
Saving power where possible with ZeroCore technology is a good thing, but for gamers who crave every last drop of performance, AMD has introduced PowerTune Technology with Boost (PTB).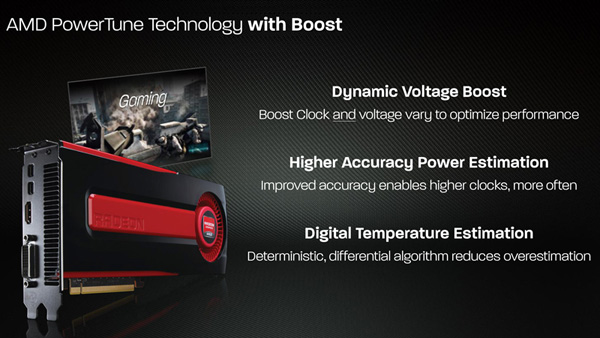 Currently available exclusively to the top-of-the-range Radeon HD 7970 GHz Edition, PowerTune Technology with Boost allows AMD's fastest single-GPU graphics card to dynamically increase frequency and voltage whenever there's room to do so.
Using complex algorithms to measure temperature and power consumption, the GPU automatically knows when to increase performance and will boost the Radeon HD 7970 GHz Edition's core frequency from 1,000MHz to 1,050MHz. That's an automatic five per cent bump in performance without any user intervention!
DDM Audio
Graphics cards have been able to output audio for some time, with HDMI being a popular interface for carrying both audio and picture, but with the Radeon HD 7000 Series AMD is opening up a whole new world of possibilities through DDM Audio technology.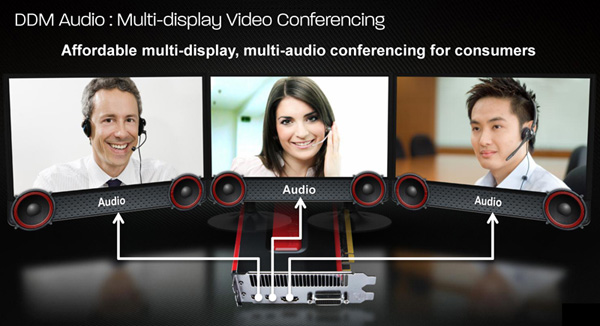 Built into every Radeon HD 7000 Series graphics card, DDM Audio introduces the ability to map audio to a specified monitor or speaker set. The real-world benefits of this technology are yet to be realised, and various software manufacturers are looking at ways to put DDM Audio to good use, but one ideal scenario would be video-conferencing; where each participant could be mapped to their own monitor.
Fast HDMI
The Radeon HD 7000 Series range is designed to prepare users for the ultra-high-resolution displays of the future, and with that in mind AMD has implemented Fast HDMI.
Offering greater bandwidth to the ubiquitous HDMI interface, this technology allows all Radeon HD 7000 Series graphics cards to drive extreme-resolution 4K x 2K displays, and similarly enhances the 3D experience. Whereas previous-generation cards were limited to running stereoscopic 3D content at a rate of 60fps (30Hz per eye), a Radeon HD 7000 Series card hooked up via Fast HDMI will allow stereoscopic 3D content to run at a silky-smooth 120fps (60Hz per eye).