Why do I need an APU?
If CPUs and GPUs can be used independently, it begs the question, why consolidate the two as a single component?
There are many reasons, but the one that stands out is efficiency. Combining the CPU and GPU onto a single silicon die makes the APU cheaper to produce than dual-chip solutions as less silicon is used. As a result of this, overall power-draw for a given amount of performance is also reduced when compared to a traditional dual-chip configuration; it takes less energy to move electrons across a chip than to move those same electrons between two chips.
And, in a similar vein, the increased efficiency can also result in greater performance. One reason for this is that the APU is more than just a CPU and GPU glued together – the single chip also integrates a high-performance bus and memory controller that allows both processing components to share a common path to system memory.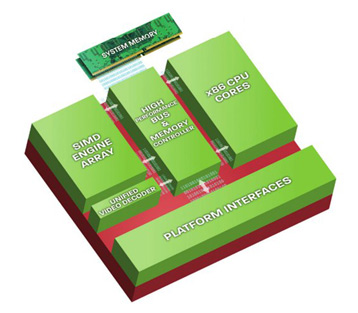 Each processor has its own unique memory demands – the CPU wants spontaneous low-latency access to memory, while the GPU tends to need masses of bandwidth – and the APU's integrated memory controller is geared toward serving both requirements through a multi-channel interface that offers a quick path to the CPU and ample bandwidth for the GPU.
Integrating the multiple components into a single die built on an advanced 32nm fabrication process is clever from a technical standpoint, but it also offers obvious benefits to the end user. The APU's increased efficiency and reduced size paves the way for smaller, ultra-thin laptops that offer greater battery life while retaining the multimedia experience offered by a standalone CPU and discrete graphics.
But you may wonder; the CPU has served us well for such a long time, so why has the desire for GPUs increased in recent years? The answer of course lies in the GPU's immense computational horsepower, or, more importantly, the increase in the number of software developers tapping into this additional processing power. Today, popular applications such as Adobe Flash Player and Cyberlink PowerDirector utilise GPU acceleration, and in the future, entire operating systems such as Windows 8 will make the most of a GPU's parallel processing power.
The APU already enables the consumer to adopt AMD CPU and graphics technologies in a single package and in 2012 a new generation of APUs – codenamed Trinity – will offer x86 processing capabilities derived from AMD's cutting-edge "Bulldozer" core coupled with discrete-class Radeon HD 7000-series graphics.