What is APU?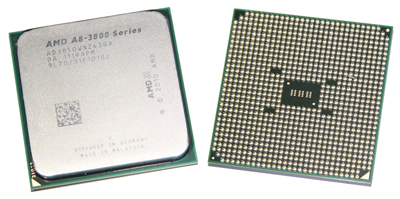 For many years, the CPU has served as the beating heart of millions of PCs all over the world. The central processing unit is best described as the brain of the machine, but while it's ideally suited to carrying out most computer instructions, there are areas in which the CPU can appear relatively weak. And that's why we've often seen the CPU paired with a familiar counterpart known as the GPU (graphics processing unit). Functioning as parallel processing engines, today's GPUs are equipped with multiple mini cores that work on instructions simultaneously – making them well suited to compute-intensive tasks such as 3D graphics and video transcoding.
Having both a CPU and GPU in a system provides the best of both worlds, and the evolution of modern-day technology has brought us to a place where both the central and graphics processing units live together in harmony as part of a single processor. Intel continues to refer to these multi-function processors as CPUs – an acronym that has become almost synonymous with the company – but AMD takes a different approach by marketing the unification of both CPU and GPU with a new three-letter acronym; APU.
The new slice of tech lingo stands for accelerated processing unit and is used to describe a computer processor that combines general-purpose x86 cores (the CPU side of things) with numerous programmable vector processing engines, on a single die (the GPU side of things).
For AMD, the APU represents a significant milestone; it is the amalgamation of the company's x86 processor technology and Radeon graphics technology, the latter sourced via the 2006 acquisition of ATi Technologies.
While others have lashed a CPU and a basic graphics unit together in a single package, AMD is confident that its own expertise in GPU development will enable the APU to enhance the end-user's PC experience, reduce power consumption, and offer a superior visual graphics experience at mainstream system price points.
Pricing, of course, is key. By combining the CPU and GPU onto a single silicon die, the APU is cheaper to produce and considerably more efficient, making it an effective mainstream solution. And, by consolidating multiple processors into a single chip, the APU enables system integrators to develop new forms of ultra-thin, compact computers that continue to offer a rich multimedia experience.
There's a lot to take in, but in summary, AMD APUs bring together existing AMD CPU and graphics technology in a single-chip solution.