AMD Mobile APUs
AMD has a rich heritage in pioneering advancements in PC computing. It was the first company to break the seminal 1GHz frequency barrier, the first to release a full x86-based CPU with 64-bit support, and the first to bring the fusion of CPUs and GPUs together on one chip. This amalgamation of the two key driving forces behind a modern processor is called Accelerated Processing Unit, or APU.
Appreciating that more work can be done, more efficiently, and with lower power consumption once the CPU and GPU are baked on to the same piece of silicon, it is no wonder that AMD has been championing the cause of APUs for five years. Indeed, rival Intel now follows the same design approach, albeit it refers to these processors by the older name scheme of CPUs alone.
It is natural for AMD to offer the latest APU technology for the mobile market where energy efficiency and form factor are key drivers for adoption. Just a few months ago, in June 2016, AMD announced the seventh-generation 'Bristol Ridge' APUs primed for a series of high-quality notebooks. Notable for the six Bristol Ridge APUs is higher-than-ever frequencies for both the CPU and GPU cores, whilst staying within the 45W thermal design limit commonly found on a wide range of laptops. Keeping up with the times, Bristol Ridge APUs use DDR4-2,400 memory, which is a boon for extra performance when running games and bandwidth-heavy applications.
AMD leverages its considerable know-how gained from years of designing discrete graphics cards that you may well know of as the Radeon series of GPUs. The same technology is scaled down and harnessed by these latest APUs, meaning that any game that is able to run on the high-performance Radeons is also able to run on the APUs. More importantly, all the considerable software-related optimisations done by AMD's Radeon-specific engineers is useful in improving the gaming performance of the APUs. No other company has such CPU and GPU synergy.
Bristol Ridge APUs are split into three performance camps: there's the A10, A12 and FX series, all with two processors each. For consumers looking to obtain the best, AMD resurrects the FX line.
AMD A-Series 7th Gen Mobile APUs - June 2016

Model

CPU Cores

CPU Base Clock

CPU Turbo Clock

GPU Brand

GPU Processors

GPU Clock

Max. DDR4

TDP

A10-9600P

4

2.4GHz

3.3GHz

Radeon R5

384

720MHz

2400MHz

15W

A10-9630P

4

2.6GHz

3.3GHz

Radeon R5

384

800MHz

2400MHz

45W

A12-9700P

4

2.5GHz

3.4GHz

Radeon R7

384

758MHz

2400MHz

15W

A12 -9730P

4

2.8GHz

3.5GHz

Radeon R7

384

900MHz

2400MHz

45W

FX-9800P

4

2.7GHz

3.6GHz

Radeon R7

512

785MHz

2400MHz

15W

FX-9830P

4

3.9GHz

3.7GHz

Radeon R7

512

900MHz

2400MHz

45W
AMD is sensible in ensuring there is an APU that fits into a wide range of laptops and pricing segments. Performance is dictated by a combination of CPU and GPU speed, and savvy consumers will understand that the higher the APU suffix, the better the overall experience, particularly for those that like to play popular games on their laptops.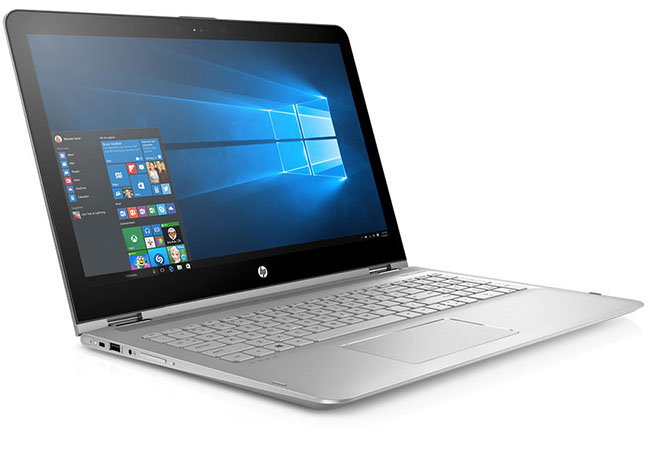 Industry giant HP has seen the obvious merit in equipping some of its best laptops with the latest APUs from AMD. Take the Envy x360 Hybrid as an example, shown above, available with an FX-9800P processor. It is widely acknowledged that AMD's APUs offer superior multimedia and graphics performance than their Intel equivalents, with better value, and that trend is continuing with the latest Bristol Ridge offerings.
Able to play 4K video seamlessly and having baked-in support for all the latest video standards and technologies such as H.265 and Google's VP9, AMD remains at the forefront of the multimedia experience. Thinking of a high-quality laptop or hybrid for your next purchase? Be sure to check out if it's equipped with the latest goodness from AMD.