AMD Desktop APUs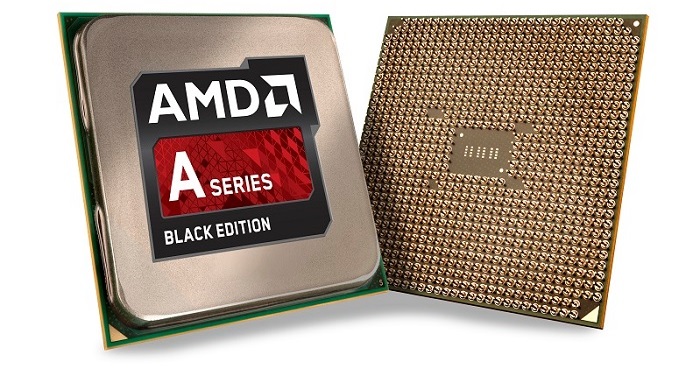 AMD has enabled consumers to have considerable choice when opting for mainstream PCs. The company has a wide range of accelerated processing units (APUs) and graphics processing units (GPUs) that offer an enviable mix of features, performance and value.
Looking at the desktop APU segment, AMD has now transitioned its latest architecture, known as Bristol Ridge, to processors for mainstream PCs. Here is how the present offerings stack up.
AMD Bristol Ridge A-Series APUs - October 2016

Model

CPU Cores

CPU Base Clock

CPU Turbo Clock

GPU Brand

GPU Processors

GPU Clock

Max. DDR3

A6-9500

2

3.5GHz

3.8GHz

Radeon R5

384

1,029MHz

2,400MHz

A8-9600

4

3.1GHz

3.4GHz

Radeon R7

384

900MHz

2,400MHz

A10-9700

4

3.5GHz

3.8GHz

Radeon R7

384

1,029MHz

2,400MHz

A12-9800

4

3.8GHz

4.2GHz

Radeon R7

512

1,108MHz

2,400MHz
Bristol Ridge is offered in four model numbers, with the usual A6, A8 and A10 being familiar from previous generations, and each higher model offers more performance on either the CPU or GPU fronts. What's new this time around is the A12, and AMD is comfortable in adding a new prefix to the APU range because the A12-9800 offers never-before-seen performance in a 65W thermal envelope.
The improvements in frequency and performance over the previous-generation Kaveri, released in 2014, are manyfold. These new APUs use a new form factor, AM4, meaning that purchasers will require a new motherboard. The good news is that the same form factor will also be used by the upcoming, performance-orientated Zen processors, too. Using AM4 now means that Bristol Ridge offers a roster of cutting-edge features, including support for USB 3.1 Gen 2, SATA Express, non-volatile memory express (NVMe) technology. These new APUs also use a new, different type of memory called DDR4, instead of DDR3 on Kaveri-based APUs.
DDR4 offers more bandwidth, which is always beneficial when running the integrated graphics. DDR4 also decreases the power requirement, meaning that systems can be more efficient and potentially quieter. What is most evident is that AMD has managed to increase the speed of the graphics portion of the APU quite significantly over the last generation whilst still using the same manufacturing process.
The best APU now, the A12-9800, increases the maximum frequency to 1,108MHz, up from 866MHz on the Kaveri-powered A10-7890K chip also released this year. This near-30 per cent increase is further augmented by the extra bandwidth available from the DDR4 memory we spoke about above, and the bottom line is that AMD has further increased its performance lead over Intel when playing popular games. Indeed, the latest Bristol Ridge APU offers a seamless productivity and gaming experience that rival Intel cannot match.
What's more, the latest APUs now feature the most efficient coolers ever made by AMD. Bundled in with select APUs is the Wraith heatsink, offering up to 34 per cent more airflow, 24 per cent more surface area and, according to AMD, less than one-tenth of the noise of previous processor-in-box coolers.
AMD has thoroughly modernised its desktop APU line-up with the release of multiple 9-series processors that are an excellent fit for modern PCs.
A wide range of etailers stock the latest APUs. Head on over to the following links to find out more:
AMD A-series APUs at Scan.co.uk
AMD A-series APUs at ebuyer.com
AMD A-series APUs at Overclockers.co.uk
AMD A-series APUs at BT Shop