Ryzen 7 Gaming
AMD has shaken the premium desktop CPU market with the release of Ryzen chips in the last three months. Based on a clean-sheet design and offering compelling performance for enthusiasts who push their systems to the bleeding edge, AMD has, in no uncertain terms, brought real choice to a stagnant part of the PC ecosystem.
Ryzen is the consumer brand name given to the first Zen-based microprocessors, and AMD has shoehorned in an impressive amount of technology in every facet of design. Looking more toward the performance segment, characterised by eight-core, 16-thread monster CPUs that go under the Ryzen 7 banner, here is how the launch trio stacks up.
AMD Ryzen 7 CPU Range

Model

Cores / Threads

Transistors

Cache

TDP

Base Clock

Turbo Clock

XFR

Memory

Factor

Supplied Cooler

Price

Ryzen 7 1800X

8 / 16

4.8bn

20MB

95W

3.6GHz

4.0GHz

Yes, 100MHz

DDR4-2666

AM4

-

$499

Ryzen 7 1700X

8 / 16

4.8bn

20MB

95W

3.4GHz

3.8GHz

Yes, 100MHz

DDR4-2666

AM4

-

$399

Ryzen 7 1700

8 / 16

4.8bn

20MB

65W

3.0GHz

3.7GHz

Yes, 50MHz

DDR4-2666

AM4

Wraith Spire

$329
A high-level overview shows that Ryzen 7 marries generous frequency with massive multi-tasking capability. Leading independent review sites have repeatedly shown that, more often than not, Ryzen 7 has the beating of Intel chips costing in excess of $1,000. It is no exaggeration to say Ryzen 7 is disruptive technology that enables class-leading multi-thread CPU performance at pricing points that are wholly impressive.
If you push your CPU to the max in applications such as video encoding and 3D modelling then Ryzen 7 is an obvious, sensible fit, enabling enthusiasts, content creators and professionals alike to put the significant financial savings into other parts of the system when compared to going down the Intel-only route.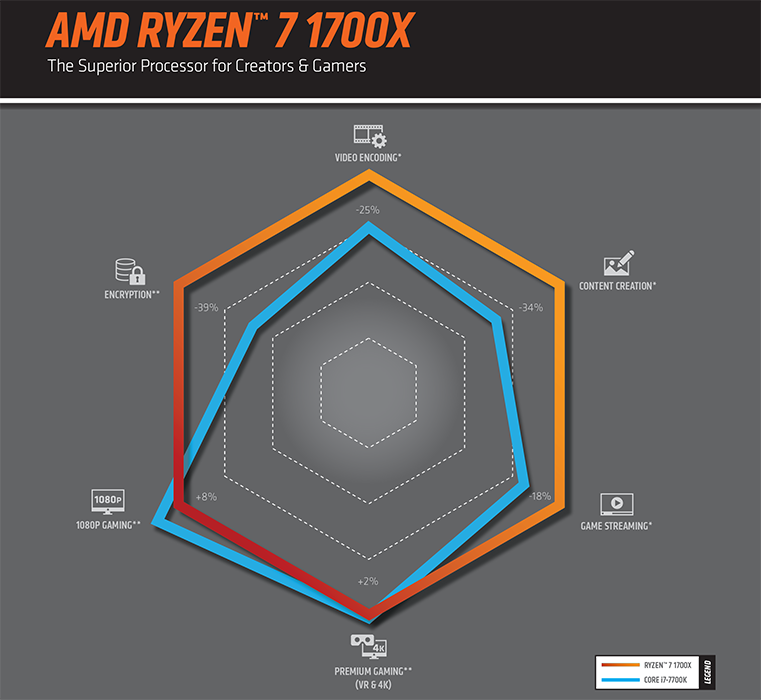 However, a compelling enthusiast-class CPU needs to be excellent at heavy usage, which Ryzen 7 clearly is, and also a first-class citizen for gaming. The latest titles take advantage of more CPU horsepower than ever before, while nascent graphics cards make short work of creating beautiful, immersive visuals at resolutions that consoles cannot match.
It is therefore important to consider the gaming potential of Ryzen 7 when paired with a high-performance graphics card and run at settings that provide the optimum balance between frame rate and image quality. In this piece we investigate just how good Ryzen 7 is when compared to the best that Intel has to offer.
To that end, we have benchmarked the Ryzen 7 1800X against an Intel Core i7-7700K and Core i7-6900K, across five games all set to lush image quality and at 2,560x1,440 and 3,440x1,440 resolutions. This combination offers excellent visuals and immersive fields of view. Pushing the graphics hardware to the limit, a GeForce GTX 1080 Ti Founders Edition card is used.
Gaming at 2,560x1,440 - average / minimum framerate

AMD Ryzen
7 1800X

AMD Ryzen
7 1700

Intel Core
i7-7700K

Intel Core
i7-6900K

Deus Ex: Mankind Divided

66.2 / 52.4

65.9 / 52

68.7 / 54.2

68.5 / 54.6

Hitman

103.1 / 2.9

99.6 / 3.2

122.9 / 3.5

124.5 / 8.1

Prey

131.5 / 98

128.3 / 96

134.3 / 109

135.6 / 108

Rise of the Tomb Raider

102.2 / 56.7

103.1 / 52.1

111.5 / 56.9

110.2 / 56.3

Total War: Warhammer

84.4

80.6

101.7

98.2
The numbers show that, at sensible resolutions, there isn't a large gap between the performance of the four systems. The minimum fps, which we consider to be as important as the average, is good on both Ryzen 7 systems, thus the gaming experience is fluid and seamless when running the games at a lush 3,440x1,440 resolution.
Gaming at 3,440x1,440 - average / minimum framerate

AMD Ryzen
7 1800X

AMD Ryzen
7 1700

Intel Core
i7-7700K

Intel Core
i7-6900K

Deus Ex: Mankind Divided

52.8 / 41.5

52.5 / 42.1

53.7 / 42.1

54.1 / 42.3

Hitman

95.6 / 6.1

95 / 6.8

103.2 / 4.6

104.6 / 7.8

Prey

107 / 86

106.8 / 88

107.6 / 86

107.2 / 85

Rise of the Tomb Raider

87.4 / 36.8

86 / 38.9

86.5 / 33.9

87.1 / 39.5

Total War: Warhammer

76.2

74.3

89

86.7
Intel is certainly somewhat quicker in some titles, though we would expect the relative AMD score to improve as developers get to grips with the nascent Ryzen 7 architecture. Moving forwards, it is likely that visually stunning games take advantage of more cores and threads than ever before. This has important ramifications insofar as AMD offers double the number of cores and threads as Intel in the sub-$500 space.
It will be interesting to see how the AMD Ryzen 7's performance matures over time, but as it stands right now, it is a capable gaming CPU as well as being a stellar choice for power users whose applications take advantage of huge parallel processing ability.
AMD Ryzen 7 processors are available at the following retailers: