The new Nokia Lumia 900, introduced over Easter weekend in the US, was a great sales success. Since its debut, the phone has been on top of the Amazon.com sales chart and also selling out in several high street stores. However a bug has already been found within the handset that makes the internet connection to the phone erratic and unreliable. Nokia stressed the problem isn't in the hardware, or with the network operator AT&T: "This issue is purely in the phone software, and is not related to either phone hardware or the network itself." The problem has actually been pinpointed to the memory management software in the phone. A fix is on its way and the software update will be available by the 16th of this month, just 5 days away.
The Lumia 900 4G phone, which was selling for $99 on top of a new AT&T contract, is now going to be available free to all AT&T contract customers until 21st April. Customers who have bought the phone already will be able to get a $100 rebate direct from Nokia. If you aren't happy with this arrangement you can replace your quite new Lumia 900 for a brand new one at AT&T retail stores from 16th April.
These price cuts and rebates are a pretty good buying incentive for what is already a very popular phone. In balance it's probably good enough news to quash the bad news about the bug being present in the first place. Just putting up with a bug, which may or may not affect your day to day mobile usage for a week, for $100 rebate, is pretty good pay back. The swift fix and rebate both point to Microsoft's and Nokia's determination to succeed with the Windows Phone platform. As mobile phone underdogs right now, that's the way it's got to be.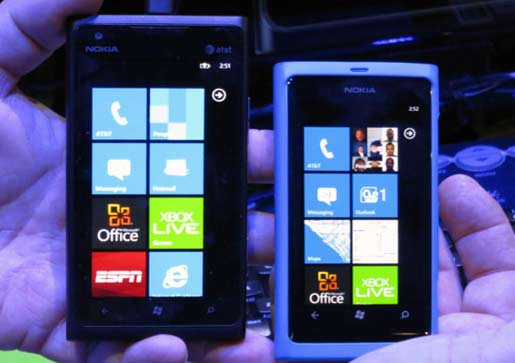 A Nokia Lumia 900(left) compared to a Nokia Lumia 800
In the UK we will get the phone too late to 'benefit' from this bug/rebate. For those readers wishing to know the difference between Lumia 800, already available in the UK and Lumia 900 have a look at this specification table. In summary the Lumia 900 is 4G, has a slightly larger and more colourful screen, has a gyroscope and secondary camera fitted but is also bigger and heavier.