STMicroelectronics has expanded its product portfolio with a new ultra-compact sensor. The new LSM303D module is an ultra-compact, high-performance e-compass and motion sensor. Integrating both these functions onto a tiny 3x3x1mm chip will offer new possibilities to portable electronic device designers; especially applicable within motion gaming, enhanced pointing, augmented reality and navigation.
The new LSM303D is said to be 60 per cent smaller than competing devices on the market yet "boasts superior sensing precision with extended magnetic-scale range and minimized measurement noise." In numeric terms the chip can work in ranges "up to ±16g (linear acceleration) and ±12 Gauss2 (magnetic field)".
STMicroelectronics says the LSM303D can make OEM products more competitive "The significant size and performance benefits enable OEMs to add new compelling functionality in mobile gadgets while keeping pace in the miniaturization race."The compass and accelerometer can be enabled or powered down separately offering flexible power management.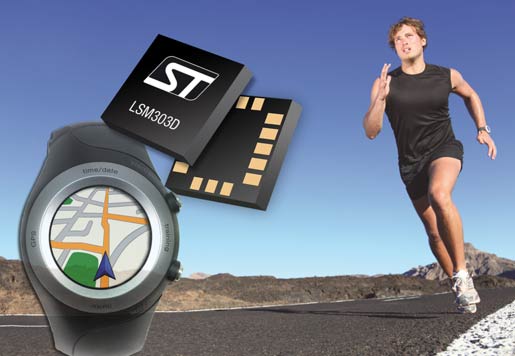 picture not to scale
Key features of the LSM303D are;
3 magnetic field channels and 3 acceleration channels
±2/±4/±8/±12 gauss dynamically selectable magnetic full-scale
±2/±4/±6/±8/±16 g dynamically selectable linear acceleration full-scale
16-bit data output
SPI / I2C serial interfaces
Analog supply voltage 2.16 V to 3.6 V
Power-down mode / low-power mode
Programmable interrupt generators for free-fall, motion detection and magnetic field detection
Embedded temperature sensor
Embedded FIFO
ECOPACK®, RoHS and "Green" compliant
Digital compass integration into consumer electronic devices is set to grow strongly. iHS iSuppli estimate that eCompass module demand in 2015 will be 1.5 billion compared to sales of 270 million units in 2010. STMicroelectronics will start mass-production of the LSM303D in autumn this year and it will be priced at $1.80 per unit for orders in the region of 1,000 pieces.