Platform games
Mobile app-watcher Flurry has published a report looking daily interactive consumption in the US. It estimated that this month will be the first month US end-users spent more time, on average, using mobile apps than they did surfing the web.
The table below shows Flurry's own app data compared to web-usage data published by comScore and Alexa, and reveals the massive swing that has occurred in the past year. While web use has increased, time spent using mobile apps has exploded, with your typical American spending an hour and 20 minutes every day using them.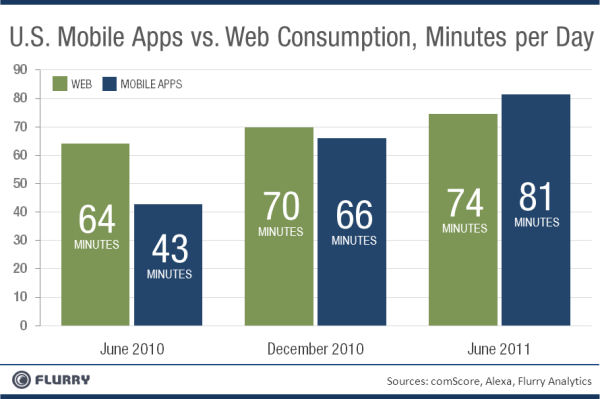 The Flurry announcement made an interesting point about the significance of this trend to the ambitions of Facebook as a major online platform-holder in its own right. "As a note of interest, Facebook has increasingly taken its share of time spent on the Internet, now making up 14 of the 74 minutes spent per day by consumers, or about one sixth of all Internet minutes.
"Considering Facebook's recent leak regarding Project Spartan, an effort to run apps within its service on top of the mobile Safari browser, thus disintermediating Apple, it appears Facebook seeks to counter both Apple and Google's increasing control over consumers as mobile app usage proliferates."
Everyone knows the dominant mobile platform owners are Apple and Google right now. Apple's aim is to encourage apps for iOS in order to make its devices more useful and to get a piece of the action, while Google also wants attractive Android apps, but wants to serve ads on them. In short they both largely control the commercialisation of the apps on their platforms.
Other companies, such as Microsoft, RIM and HP, are trying to establish competing mobile platforms, but possibly the biggest platform competitor is Facebook, which for many is the hub of their online existence. This is all going well on the PC, where Facebook is mainly accessed by the website, but in mobile devices people expect to use apps, as opposed to browsers.
The Project Spartan leak referred to is a story on Tech Crunch, which claimed to reveal the imminent launch of a new Facebook development platform - codenamed Project Spartan - that will be entirely HTML5-based and work on mobile web browsers, with Apple's Safari being the primary target.
The story makes the point that Facebook's strategic interest in this platform is to develop a mobile platform that it can exercise far more control over than any mobile app, and thus circumvent Apple's control over apps on iOS devices. Facebook has apparently tried to downplay the significance of this leak, leading to a not unimpressive hissy-fit from the author, but they seem to have largely failed, and data such as this just serves to emphasise the need for would-be platform players to do something soon.
The other chink of data offered up by Flurry in this release is what people are doing during their hour or so per day using apps. While games are the unsurprising leaders, people spend a third of their time using social networking apps.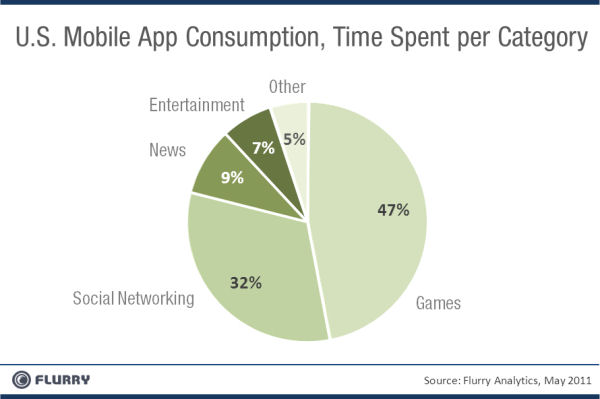 "With a better understanding of how consumers spend their time across app categories, Facebook's Project Spartan makes even more sense," concluded the report. "As a category, social networking - which is Facebook's core competency - commands the second largest allocation of consumers' time.
"Games, which typify the most popular kind of app played on the Facebook platform itself, are also the top categories on both Android and iOS platforms. As interactive media usage continues to shift from the web to mobile apps, one thing is certain: Facebook, Apple and Google will all expend significant resources to ensure that no one company dominates owning the direct relationship with the consumer."