Apple has managed to get supplies of the iPhone 5 flowing into stores fast enough to keep up with demand, in the US as least. Production hiccups, worker unrest and extra time required to try and solve quality issues hurt the supply of the new iPhone model soon after launch. However now it looks like there will be plentiful amounts of iPhone 5 smartphones to stuff in your loved one's Christmas stockings.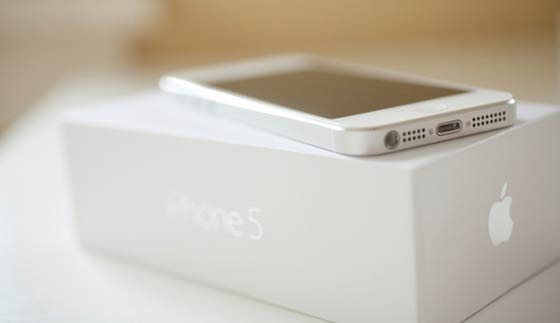 Gene Munster, an analyst at Piper Jaffray, conducts nightly checks of stock at 100 Apple stores in the US and over the last 10 days availability has markedly improved. An article on CNN Money quotes the analyst report which says "AT&T and Verizon have shown dramatic improvements in availability, while Sprint has maintained consistent availability. Last night, our checks indicated that Sprint phones were in stock at 92% of Apple Stores, AT&T was available at 82% of stores and Verizon at 72% of stores. Additionally, we note that wait times for online phone orders dropped to two weeks as of today." There's a nice graph accompanying today's report, reproduced below. Munster goes further to conclude that he believes "that within the next two weeks customers will be able to purchase iPhone 5s at Apple Stores same day".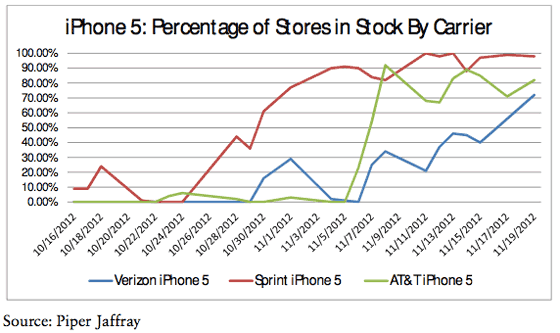 The last update we got from Apple about numbers of iPhone 5 sales was at the end of September when the company said that 5 million had been sold "just three days after its launch on September 21". It will be interesting to see the iPhone 5 sales figures after Christmas as consumer spending really takes off. Also Apple has the new iPad mini in the fray looking to capture your Xmas savings. Last quarter Apple sold 27 million iPhones and 14 million iPads, the company said in a fourth quarter results statement at the end of October. These figures give you an indication of the sales possibilities for the new iDevices.
Two new iPhone 5 adverts from Apple
Apple has a couple of new adverts featuring the iPhone 5. The first of the ads concentrates on the "Photo Stream" photo sharing abilities of the smartphone. The second advert highlights an actual telephony function – a useful noise cancellation feature, useful when you have to talk on the phone in a noisy environment.
Orchestra
Turkey