Today Google's Android OS reached the milestone of having over half a billion devices activated worldwide. On top of that 1.3 million devices are added every day. This represents a huge success for Google. Androids growth shows no sign of slowing down as the rate of activations illustrates; back in February Google's Andy Rubin confirmed 300,000 Android activations and a rate of increase of about 850,000 a day.
Google's Hugo Barra announced the new figures on, what is coincidentally, the day the new iPhone is set to be revealed. He declared on his Google+ account page "Today is a big day for Android... 500 million devices activated globally, and over 1.3 million added every single day." Apple is hoping it will be enjoying a big day too, we shall see more about that after 6PM, UK time.
Android's 40 per cent surge in 6 months
Android has enjoyed a huge surge in the last six months climbing from 300,000 activations to 500,000; a sturdy 40 per cent increase. Analysts think this adoption rate has been helped by several factors; first of all people have been waiting impatiently for the new iPhone, some folk will have jumped ship, secondly there have been great hardware releases by Android handset makers such as HTC and Samsung to encourage people to buy into the Android platform. There are more and more devices other than smartphones that are "powered by android". We also have the obvious tablet computers but also there are TVs, cameras and various games consoles now based upon the Android OS.
Looking at the competition figures, Apple has sold 410 million iOS devices as of July this year. Apple iOS and Google Android "powered 85% of all smartphones shipped in the second quarter of 2012" according to research by IDC published last month. The Q2 market share figures were as follows; Andoid 68.1 per cent, Apple iOS 16.9 per cent, BlackBerry 5 per cent, Symbian 4.5 per cent and Windows Phone 3.5 per cent.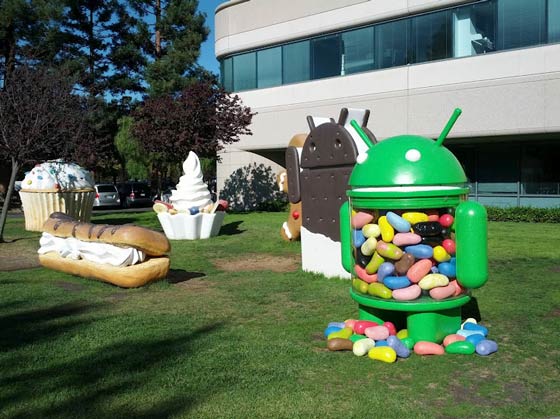 New Jelly Bean statue update
Incidentally Mr Barra announced that "the Jelly Bean statue is back in our front yard". The old one had melted a bit in the California sunshine causing the transparent head to pop off and several "jelly beans" went missing. The new one with a green head looks better anyway, much more iconic at a distance.