BitTorrent Inc. has now made the µTorrent beta available for download from Google Play. µTorrent gained popularity on desktop systems partly because it "is designed to consume as few resources as possible to avoid impacting your computer use". These virtues are even more important on Android smartphones.
The µTorrent Android app will allow you to find and download torrents directly to your smartphone or tablet, subscribe to RSS feeds and play content. The app is "currently free" and imposes no speed or size limits upon your downloading shenanigans. Many other popular Torrent clients on Android impose limits and show adverts in their "non-Pro" free software versions. Here's a list of the Best BitTorrent Clients for Android up until now.
Eric Klinker, CEO of BitTorrent Inc. gushed "µTorrent became famous for being the most powerful and lightweight BitTorrent client in the world. Today's release, and everything we are doing with the µTorrent brand, is about staying true to that vision." He added that "We're making it easier than ever for Android users to download their favourite personal content directly to their mobile device-something consumers are doing more and more, as their smart phones and tablets come equipped with large amounts of storage space." Not to mention several UK mobile operators offering unlimited mobile download packages. If your unlimited downloads don't include tethering you can download large files to your SD card and copy/sync them to your desktop/laptop later.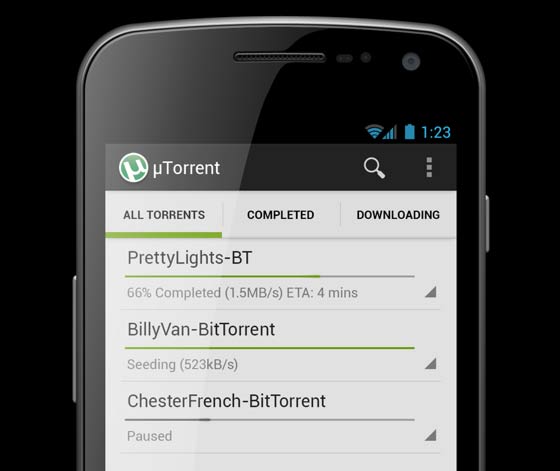 Android µTorrent screen picture by Caio
But you are being watched!
Many news sites covered the story earlier this week about torrent downloads being monitored. Researchers at the University of Birmingham revealed that they have discovered "massive monitoring" of torrent distribution sites such as The Pirate Bay over at least the last three years. The 18 pages of research findings are downloadable here. In summary; some of the other "peers" in the BitTorrent swarms have IP addresses associated with torrent monitoring services.
The Huffington Post says that "They estimated that 65 of the top 100 movie torrents and 26 of the most popular music torrents were being monitored directly." With music and movies most carefully watched. However the New Scientist thinks that the data isn't complete enough for future copyright infringement lawsuits. The monitors may be just to assess the scale of downloads, for now.