Q2 figures from Nielson tell an interesting story when it comes to the US mobile market. Firstly, Google's Android operating system is now present on more than half of devices in the market, 51.8 per cent, to be exact. It's shown that Android likes to share the love with its OEMs and there's a fairly even split between Samsung, HTC and Motorola, with a good nine per cent of the Android share left for smaller firms.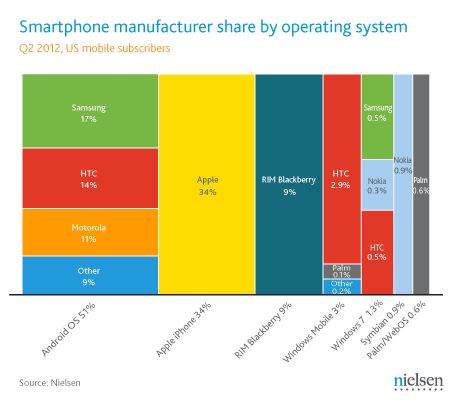 Apple has managed to win back a little of its user base and is sitting comfy at 34.3 per cent for iOS, up from 32.0 per cent in the first quarter, holding the largest single manufacturer share.
Other operating systems have suffered at the expense of both Android and iOS's growth, with RIM's Blackberry dropping from 11.6 to 8.1 per cent in a single quarter, likewise, shares of both Windows Mobile and Windows Phone have dropped, though this likely indicates a stagnant market as a opposed to a dying one. It's interesting to note that Nokia, once the world's largest phone manufacturer, only holds 1.2 per cent of the smartphone market share in the US, spread between Windows Phone 7 and Symbian.
What'll be most interesting, however, are the Q3 figures to be released later on this year, with Samsung's GALAXY S III smartphone taking the market by storm, we wonder how this will affect the percentages.