For those who were lucky enough to steal away a HP TouchPad during the fire-sale for under £100, a new, albeit expected problem has slowly begun to present itself.
HP announced before the fire-sale, the reason for the sale itself, that it would be discontinuing all WebOS based devices. As such WebOS has and will be seeing a drop-off of significant new content, updates and features.Yes, the tablet was available for as little as £89 but the device is becoming stuck in time.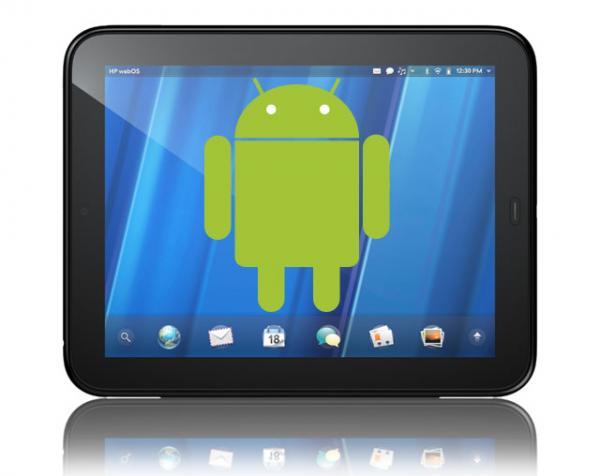 Fear not £89 purchasers! The value for money continues to roll-on as CyanogenMod, a group that dedicates itself to producing after-market firmwares, looks set to bring Android 4.0 Ice Cream Sandwich to the HP TouchPad. Still in the Alpha stages, the update is far from usable but, thanks to Google's release of the Android 4.0 source code, after the firm's hoarding of the 3.0 Honeycomb source, a tablet friendly form of the Android OS is available for use by the CyanogenMod team, which, when implemented, would allow the HP TouchPad to look and play just like any other Android tablet on the market, one hopes.
This all brings us to our final bit of news; HP is set to revive the fire-sale on its ebay store as it puts up-for-sale refurbished HP TouchPads, starting Sunday December 11th 6:00pm Central Time. We're yet unsure as to whether there will be similar offerings on the firm's UK ebay store. These products will be limited to two sales per ebay member, payment must be through PayPal and warranty will be 90 days only. HP employees will be given first dibs with a slight delay before products are opened up to the public, details can be found in a leaked HP letter below.
To: U.S. HP Employees

HP employees will have a chance to purchase a refurbished HP TouchPad via eBay before the sale is announced to the general public. Specifically, the TouchPads will be offered through one of HP's newest marketplaces for close-out and refurbished HP products, the new HP eBay Store.

This product will NOT be available through any other HP stores, such as the Home & Home Office store, Small & Medium Business store, HP EPP or the HP Business Outlet. PLEASE DO NOT CALL ANY OF THESE CALL CENTERS BECAUSE IT DISRUPTS REGULAR SALES ACTIVITIES AND THEY'RE UNABLE TO PROCESS AN ORDER FOR THE TOUCHPADS ANYWAY.

In an effort to give HP employees first chance at a very limited supply of refurbished TouchPads, there will be a short delay between when the product is posted live for sale on eBay and when the general public is notified of the sale.

Refurbished HP TouchPads, both 16GB and 32GB versions, will be posted for sale through the HP eBay store at: 6:00 p.m. (Central Time), Sunday, December 11th. If you are interested in purchasing a refurbished TouchPad, please make yourself a reminder to log-on to eBay a few minutes before the sale starts to make your purchase.

The TouchPads will be available for sale here (under "Laptops"):

http://stores.ebay.com/hewlettpackard

Important information about this sale:

• There will be both 16GB and 32GB versions available, selling at a fixed price of $99 and $149 respectively…while supplies last.

• There is also an optional 3-piece Accessory bundle with a Case, Charging Dock & Wireless Keyboard for $79 (est. value $199.97).

• Purchases must be made through the HP eBay store via PayPal only. If you do not have eBay or PayPal accounts, create your accounts before the sale begins to avoid delays.

• The product offer will be announced to the general public on Monday morning and is expected to sell-out quickly thereafter, so don't delay.

• There will be a limit of two (2) TouchPad SKUs per eBay member, sold on a first come, first served basis.

• This sale is not associated with any HP-sponsored employee purchase program and there are no additional discounts for HP employees off the HP eBay store price.

• All sales are final. There are no returns unless product arrives defective.

• The refurbished TouchPad product comes with a 90-day limited warranty.

• Please note that eBay orders only allow one ship-to location per order.

Thank you for your cooperation, good luck to you and don't forget to mark your calendars for 6:00 p.m. (Central Time), Sunday, December 11th.

Best regards,