Snaffled secrets
The contents of Three's spring and summer line-up has been leaked and among the offerings is Samsung's mini alternative to its Galaxy S II smartphone.
Engadget got hold the material, which shows off the 'high tier' Samsung Galaxy S II Mini running Android Gingerbread with a 3.7 inch WGVA screen and 5MP camera, which is destined for an April launch.
Here's an image and details courtesy of Engadget/Three.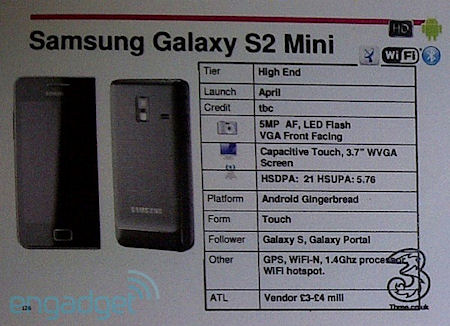 Looking at tablets, according to Engadget, the leaked material also shows that HTC's Flyer slate with stylus and RIM's Wi-Fi only Blackberry Playbook are set to launch on Three in June.
Nokia's X7 handset is also on its way in June, according to the material. The Symbian handset is described a mid-tier handset and offers an impressive 8MP camera plus 4 inch OLED screen, while Nokia's 'flagship' phone the E7, with its 8MP camera, 4 inch AMOLED screen, and slide out QWERTY keyboard is set to land in May.