Google has launched the first Android O developer preview (DP1). Developers who wish to participate in the testing of this fledgling OS (alpha) version currently have to manually download the OS image files to flash their devices. Compatible devices are; the Nexus 5X, Nexus 6P, Nexus Player, Pixel, Pixel XL or Pixel C (or the Android emulator). It is thought that the DP2 release Android O will subsequently be made available in an OTA update option in the Android Beta channel.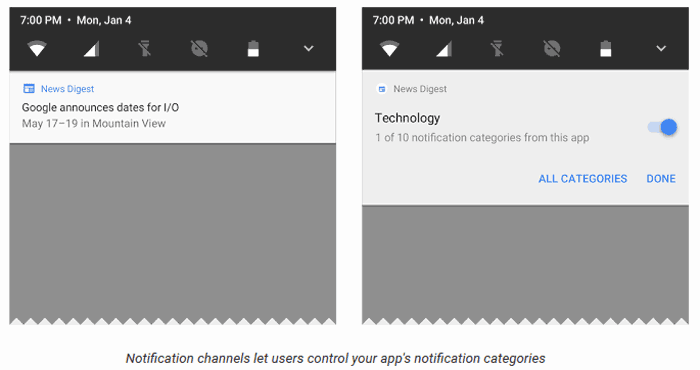 Android O won't feature a major UI refresh but concentrates on tweaking core OS features. Interestingly it brings a few useful changes which seem to be aimed at devices running Android on Chrome OS. While we are on this particular topic I might as well highlight these features which are; multi-display support where activities can be launched on a remote display, and keyboard navigation for such users to be able to tab and arrow around apps. This functionality should be useful not just for Chromebooks but for the likes of TVs. Now, let's look at the other known new features…
Battery life / performance: Android O continues Nougat's work in improving battery life without noticeable impact on performance. Part of the way Google is working on this problem in Android O is to implement automatic limits on what apps can do in the background. Three areas have come under scrutiny for limits: implicit broadcasts, background services, and location updates.
Notifications: notification channels allow developers to group their app notifications into new app-defined categories. An example provided (picture above) is a news app providing technology news updates only. "Users can block or change the behaviour of each channel individually, rather than managing all of the app's notifications together," explains the Google developer blog. New visual cues and notification grouping policies help prevent Android users being overwhelmed by notifications.
Picture in Picture: Android O apps will be able to present themselves in a small PiP window when the user switches to another app. If you've used the modern YouTube app on Android you will have seen a similar feature that was limited to in-app use.
Wide-gamut colour support in apps
Adaptive icons: designers can create adaptive icons for people using rectangular, rounded rectangle and circular icon based themes, for example.
Connectivity: Android O adds features such as Wi-Fi Aware, previously known as Neighbour Awareness Networking (NAN). Improved audio quality will be supported thanks to support of Bluetooth codecs such as LDAC. On the topic of audio, the AAudio API for Pro Audio API will be introduced for apps that require high-performance, low-latency audio.
Others: Also in Android O there are WebView (browser rendering) enhancements plus Java 8 Language APIs and runtime optimisations.
Over coming months Google will be updating its developer preview and will present a deep dive into the new OS features at its I/O conference in May. Check out the graphic below for the projected development timeline.

It is widely expected that Android O will be released as Android Oreo.