Power to the people
When I sat down to interview Imagination Technologies' marketing VP Tony King-Smith, it was amazing to reflect that my last visit to his Aladdin's cave in King's Langley was nearly two years ago.
He doesn't call it that, of course, but I can't think of a better way to describe a room that contains a treasure trove off all the latest technology and shiny things that are powered by Imagination's embedded processors.
I described Imagination as Intel's secret weapon back in 2009, but in the intervening time Apple has gone from being very successful to outright dominant. At the core of Apple's growth as a mobile device behemoth have been the A4 and A5 SoCs, which are designed by Apple, but contain Imagination's PowerVR SGX535 and SGX543MP2 GPUs, respectively.
As a result, it would now be more accurate to refer to Imagination as Apple's not so secret weapon now, although that would be to do a disservice to Imagination's many other licensees. But Apple is the biggie, and it was with a degree of good-natured resignation that King-Smith (pictured below - right - talking to me) fielded my inevitable initial question about what it's like to work with Apple.
"There's Apple the customer - who we don't really talk about, but then there's Apple the influencer," said King-Smith. "They create an emotional link with their customers, while everyone else has a functional link. Nobody appears to be able to keep up with them at the moment."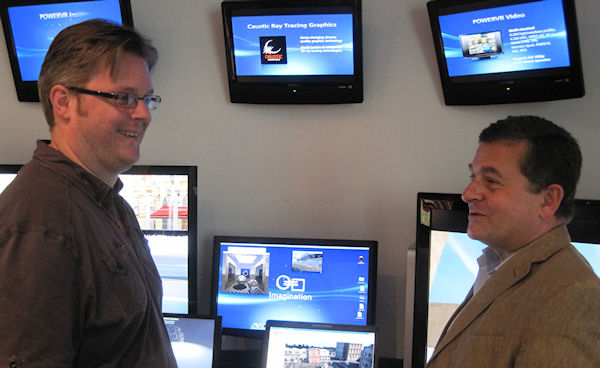 While the likes of Nokia and Intel have both done their bit to bring about the convergence of the PC and mobile phone markets, it was Apple that catalysed the mobile Internet revolution with the launch of the iPhone, and then accelerated it further with the iPad. That alone is reason enough for Imagination to be grateful to Apple, but the company also gets a small payment every time Apple ships a device containing one of its GPUs, which is does with amazing frequency.