Surround Sound
The Vengeance 2000 looks good, it's comfortable to wear and the wireless technology works a treat, but more importantly, it also sounds good.
Delivering finely-tuned audio thrills are a pair of custom-designed 50mm drivers that each feature 25mm neodymium magnets and 16mm voice coils. The drivers are the same size as those featured in the older Vengeance 1500, but the re-worked innards can certainly be heard. We've previously mentioned that Corsair headsets can be lacking in the bass department, but that isn't the case here - the Vengeance 2000 provides deep lows that provide a real punch when gaming, and there's good detail and clarity in the mid-range.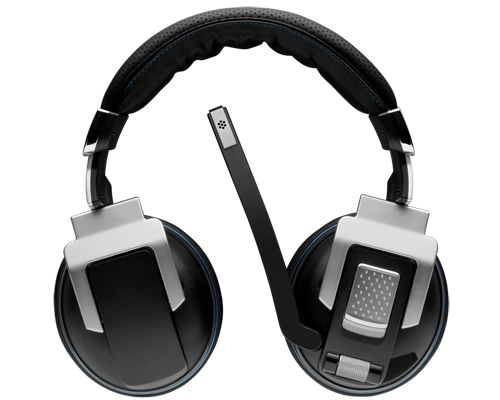 For users coming from a generic headset, it wouldn't be an understatement to suggest that the Vengeance 2000 brings games to life. Diablo III becomes pant-wettingly atmospheric, and destructive 3D worlds take on a whole new meaning when your head rumbles with each tumbling wall.
In-game sound, then, is thoroughly enjoyable, but we do have reservations about the advertised 7.1 surround. With only two speakers, Corsair's using complex algorithms and Xear audio-processing technology to simulate positional audio. In the company's own words, this is achieved by "adding very subtle amounts of echo, delay and reverb to the audio signal to fool your brain into thinking that you're listening to audio in a real environment."
We've enjoyed simulated surround sound in the past - indeed, Corsair's previous headsets have been able to impress using Dolby technology - but the Xear audio processing delivered mixed results. In games such as Battlefield 3 and Diablo III, the sound continues to thump, but we struggled to pinpoint location and get a real sense of which sounds were coming from which direction.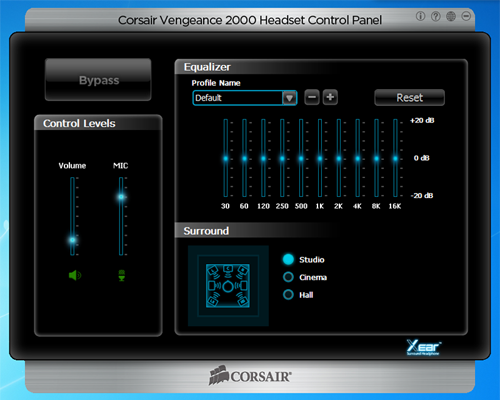 The Vengeance 2000 software utility provides three different environments - studio, cinema and hall - but we never felt completely satisfied with the virtual surround sound created by any mode. The headset can be reverted to standard stereo via the software's giant 'bypass' button, but somewhat surprisingly, we found the surround experience more enjoyable after uninstalling the Xear utility altogether and using Microsoft's default Windows driver with the 'Virtual Surround' enhancement enabled. In this configuration, we were able to clearly differentiate between front and back channels using a test file, and in-game audio felt more precise.
There is an obvious trade off when choosing not to install Corsair's software utility, though, as you also lose the 10-band equaliser which is essential when listening to music. The default setup is good for everyday pop, but in Springsteen's Land of Hope and Dreams we found the bass to be overpowering Clarence Clemons' saxophone and a little fine-tuning via the equaliser was needed to land at audio heaven.
Final thoughts and rating
After an initial flurry of activity in the audio space, Corsair's next logical step is to move into wireless territory and it's a step the company has navigated successfully with the Vengeance 2000.
Armed with punchy 50mm drivers that deliver game-enhancing audio, this is a headset that delivers on almost all fronts. Stereo sound quality is great, the headset is comfortable during long spells of use, and Corsair's wireless implementation works without impediment. There's still room for improvement - we reckon the simulated surround experience could be better - but if you're a gamer in need of a high-quality wireless headset, the Vengeance 2000 should be on your shortlist.
The Good
Great stereo performance
Well-built and comfortable in use
Good wireless range
The Bad
Surround drivers need work
Only works with PCs
HEXUS Rating

Corsair Vengeance 2000
HEXUS Awards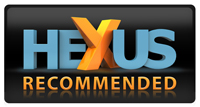 Corsair Vengeance 2000
HEXUS Where2Buy
The Corsair Vengeance 2000 Wireless 7.1 Gaming Headset is available to purchase from Scan Computers*.
HEXUS Right2Reply
At HEXUS, we invite the companies whose products we test to comment on our articles. If any company representatives for the products reviewed choose to respond, we'll publish their commentary here verbatim.