Loads of single and multiplayer options
Ok, so before we pull the fluffy covers off our drivers and start twitching at the tee, let's have a quick look at what Tiger Woods PGA Tour 08 offers up. In the single player mode we've now got five different types of play from basic stroke play through to skins and even a shootout, last man standing elimination mode. There's more goodies in the multiplayer but I'll come to that lot later.

On the course itself you've now got loads of options for how to smack that ball up the fairway. The typical club selection is here but then you can move your stance, adjust for wind, change the shot type and even put some after-spin on the ball…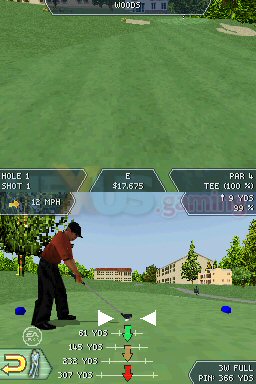 But where Tiger Woods PGA Tour 08 really comes through is with the swing control. Yeah sure, you can opt for the DS version of the old Links style triple click but really, with a nice touchscreen down there, wouldn't you rather go for the Touch Swing interface? Believe me, if you do you'll have a far more satisfying game of golf.

The real beauty of Touch Swing is its simplicity and intuitiveness. You place the stylus on the club head and draw back down the screen across the graduation bars which give you an idea of the power you'll be putting into the shot. Then you flick the stylus up the screen to bring the club head down and through the ball, hopefully belting it up the fairway.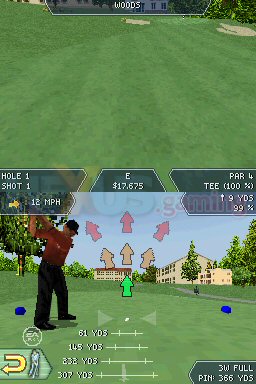 Where Touch Swing comes into its own is with the draw and fade, so if you veer off from straight up, you'll hook or slice. But the great thing is, seeing as you're moving the stylus over a much shorter distance than you would if using Trueswing and a mouse on the PC, you'll be playing mostly straight shots… and after a couple of rounds you'll be adding fade or draw deliberately to improve the final lie of the ball on the fairway.

Graphically, Tiger Woods PGA Tour 08 is leaps and bounds ahead of EA's previous effort on the DS and although the DS is no graphical powerhouse, what's on show here is certainly adequate for the task. The touchscreen is clear and crisp enough to be able to see what's going and easily select the various set-up options for each shot and even when putting, where a decent display of the contour overlay is essential, the DS handles the graphics nicely.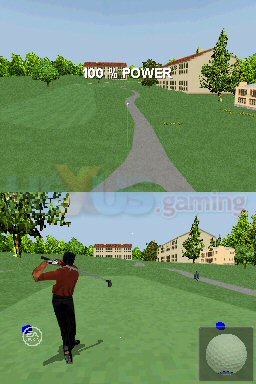 There are a couple of places where the graphics could've been thought through a bit more, such as the character set-up screens… the head-to-toe view of my character was too small to see what changes the facial features were actually having and now I've got gunmetal blue hair… but otherwise everything does the job.