Since the release of Windows XP 64-bit for x86-64 back in 2003, 64-bit computing has been slow to catch on despite all processors now incorporating support for the larger word count, with fears that it will break compatibility with some legacy applications and games.
Today, such fears should no longer exist, with general compatibility for 64-bit Windows very strong indeed and, with the existence of virtualisation as a safety net, there's now no reason to not make the transition to x64. The technology also brings with it several benefits, primarily in relation to memory, with support for RAM of 4GB or greater and improved virtual addressing, though, something many users aren't aware of is also the hardware 'No-Execute' bit, which adds a level of hardware protection to systems, preventing instruction code from being ran in areas of memory designed for storing data, a common point-of-attack for both viruses and hackers alike, typically in the form of a buffer-overrun.
It shouldn't come as a surprise then, that DICE's Technical Director, Johan Andersson, announced on twitter that some of the firm's 2013 titles will require a 64-bit operating system. Whilst we doubt DICE is all too interested in fighting viruses with the NX-bit of an x64 system, with increasing texture sizes and level complexities, we can understand the firm's wish to address more memory, especially for its historically demanding Battlefield game series. 64-bit will also allow the team to reduce its codebase and engine complexity with the knowledge that it won't have to support 32-bit instructions or variables, as, even current-gen consoles are also natively 64-bit.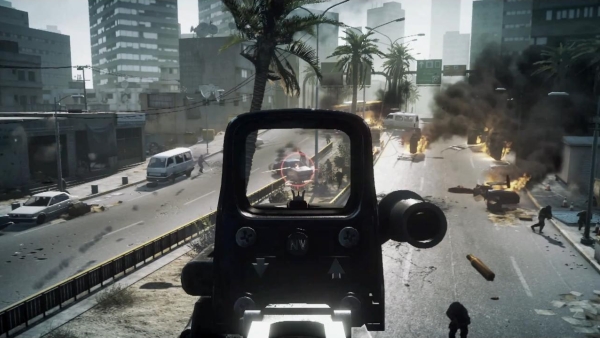 Battlefield 3
DICE is well known for pushing its 'Frostbite' engine to new frontiers, with Frostbite 2.0, utilised in the recent Battlefield 3 title, dropping support for DirectX 9.0c and thus Windows XP, featuring full support for DirectX 11. For those still on a 32-bit OS, Johan suggested that this would be a great time to upgrade to Windows 8, if you can live without Aero that is.