Microsoft has named a date for its next generation Xbox unveiling. The new console will be unveiled at its Redmond, Washington campus on Tuesday, 21st May, which is less than a month away. We reported over a fortnight ago that 21st May would likely be the time of the launch event after Paul Thurrott, a well respected Microsoft focused tech journalist, named this date during a YouTube webcast. Microsoft has given the event a Twitter hashtag, #XboxReveal.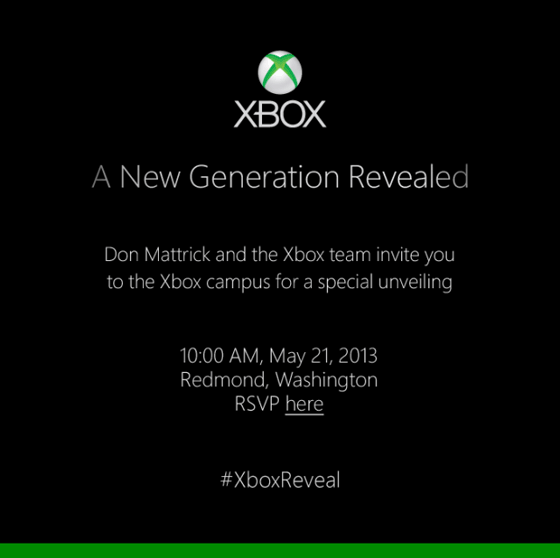 Event will be streamed live
As well as the press invites, an example of which you can see above, Microsoft's Major Nelson posted a countdown timer and wrote the following: "On Tuesday May 21st, we'll mark the beginning of a new generation of games, TV and entertainment. On that day, we'll be holding a special press event on the Xbox campus and we invite you to join us via the live global stream that will be available on Xbox LIVE and Xbox.com." The Major continued "On that day, we'll share our vision for Xbox, and give you a real taste of the future. Then, 19-days later at the Electronic Entertainment Expo (E3) in Los Angeles, we'll continue the conversation and showcase our full lineup of blockbuster games. We are thrilled to pull back the curtain and reveal what we've been working on."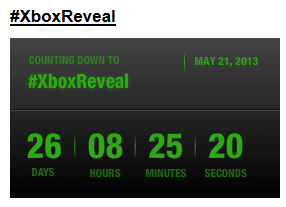 If there are no official images, videos or renders leaked out, then 21st May will be the first time we see the next generation Xbox. Which might be simply named, Xbox... Hopefully Microsoft will show us more than just the controller. However less than three weeks later we have the E3 show where we expect to see a lot more of both the next generation Xbox and the Sony PlayStation 4.
Looks aren't everything
How the new Xbox will look, or what it will be named, isn't a high priority for Xbox fans right now as more important usability questions have reared their heads. Just over a month ago we heard murmurings about the next Xbox requiring a constant internet connection to function. Also a Kinect will be required for it to function (but every system will include one) and all games will be required to be installed on the HDD. Doubts about the console's backwards compatibility have also been raised.
Of all the unknowns and rumours the always on, always connected concept was worrying lots of fans. A couple of weeks after we found out about that "feature" it appeared to be confirmed by the then Microsoft Studios creative director Adam Orth, who told someone on Twitter "Sorry, I don't get the drama around having an 'always on' console... #dealwithit". Mr Orth has subsequently resigned.