Logitech has today unveiled the successor to the ageing-but-well-regarded G11 gaming keyboard in the form of the all-new G110.
Despite jumping a whole 99 numbers in model, the G110 is still very much a hardcore gaming keyboard - and it's equipped with a number of useful features.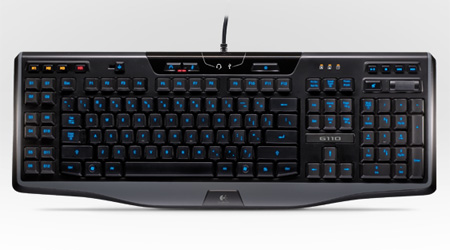 Gaming in the dark, for example, shouldn't be a problem as the G110 features custom-colour backlighting on all of its keys. Speaking of keys, the G110 features 12 that are programmable - each of those "G Keys" allows for three macros, creating a total of 36 unique functions.
There's a built-in USB 2.0 hub, allowing you to hook up your gaming mouse, one-touch media and volume controls, and integrated USB audio. The latter allows the user to plug a gaming headset directly into the keyboard for "strategizing with teammates and trash-talking enemies in clear digital sound".
Trash-talking aside, it's looking a formidable piece of gaming kit, and it'll hit UK stores in January priced at £79.99. Though, if you prefer keyboards equipped with an LCD, Logitech's own G15 can be had for just £10 more.