Despite HEXUS.community members' yearning for a return of the faithful all-surface trackball, Microsoft is moving full-steam ahead with its BlueTrack technology.
Having launched its first two BlueTrack mice yesterday, Microsoft is now focused on bringing the so-called "world's most advanced tracking technology" to gamers, and it'll arrive in the form of the SideWinder X8.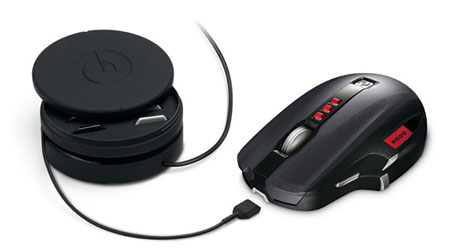 The evil-looking SideWinder X8, pictured above, features an over-the-top but completely-braggable tracking range of 250dpi to a whopping 4,000dpi.
The mouse serves up a handful of nice touches, too. The retractable USB cord you're seeing allows for a play-and-charge experience, so you'll never need to worry about your battery dying mid-frag. When completely wireless - using the built-in 2.4GHz technology - the mouse will offer up to 30 hours of gaming on a single charge.
We can hear the grumbles about wireless gaming already, but Microsoft insists that it "designed this mouse to perform to the highest gaming standards - with near-zero latency, uninterrupted gameplay and the world's most advanced tracking with BlueTrack Technology."
There's the usual SideWinder functionality, including a scroll wheel with tilt, vertical side buttons, DPI switching, replaceable mouse feet, seven programmable buttons and a macro record button.
That's all well and good, but nothing quite says "PWNED!" like the gorgeous BlueTrack glow emitting from the SideWinder's rear.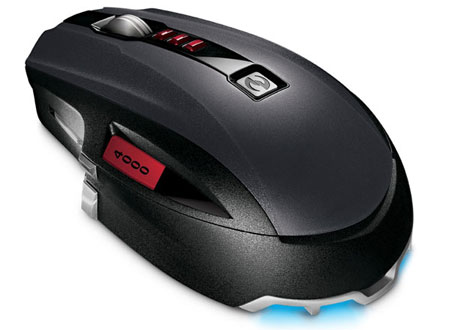 It looks menacing, but it won't ship until February 2009, and you can expect to pay $99.95 for the BlueTrack privilege - that's only a $100 less than an Xbox 360. Still, it'll look nice next to that all-new SideWinder keyboard.
Official press release: Experience Untethered, Uninterrupted Gameplay With Microsoft's New SideWinder X8 Mouse