A weekend warrior's war diary.
Saturday, 8th October:

We arrived at base dressed in our jeans and t-shirts and looked every part the FNG's we were. Once we'd been kitted out with desert combats and webbing we were issued with our weapons. I had a Heckler and Koche G36C, a good all round weapon with a high rate of fire and a folding stock for CQB (Close Quarter Combat) work. Matt and I were issued with two grenades and a stun grenade each then sent to join India Squad, made up of three seasoned pros and another new guy.

10.00 hours

At 10.00 hours we had patrolled to the jump off point and started our move into the city to try and stop the militia insurgency in the area. Chad was in the throes of a huge civil war and we were there to try and support the government, whose own army had either fled, been killed or swapped sides leaving us and the US troops to go in and sort it out.
"You go first, if you get shot, I'll shoot them, ok?".."OK!...er..hang on…"
Our first priority was to secure the airfield to the west of the city so we could get our vehicles in. We moved off to the north of the airfield and soon came into a contact with the enemy. With support from a GPMG (General Purpose Machine Gun), we leapfrogged down a narrow alleyway, all the while under fire from the Africans at the other end. Bullets were ricocheting all around us as we prepped our grenades but as we followed them in the front three walked into a deadly crossfire, taking them all out in less than two seconds. Then a sniper took down another guy leaving just me and Matt huddled against the wall. We had no hope of covering fire as the GPMG was pinned down by the sniper so we tried to push forward.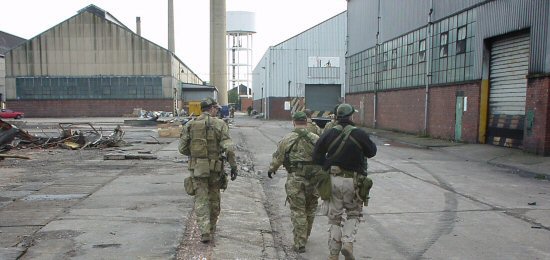 Reminiscent of Full Metal Jacket… without the stuff about shooting your drill instructor or getting beaten with bars of soap…
I covered Matt as he crossed the alley to get an angle behind the wall and took out one African with a lucky shot, then all hell broke loose as Matt came under an outrageous amount of fire. He managed to get one himself before going down, so I followed in straight away with a grenade around the corner following that up with a long burst into that area… but as I headed for cover I took hits up my left side and that was it, I was down too…