Attached polls to your "Chimes"
In terms of overall look, the layout of Chime.in does bear many of the hallmarks of Facebook, but in terms of content it's actually billed as an "interest network, where people share, connect with others, and build communities around their favorite topics." This is made all the more apparent when you reach the Home screen.

At the top centre of the screen is the area where you can type in your status updates, or as it's called "Compose a Chime." The option to add a headline is the first indication that perhaps Chime.in is much more of a news channel than a social network. Under the headline you type your message, and can then enter up to five tags that represent the subject of your post – this is what other people will be searching for.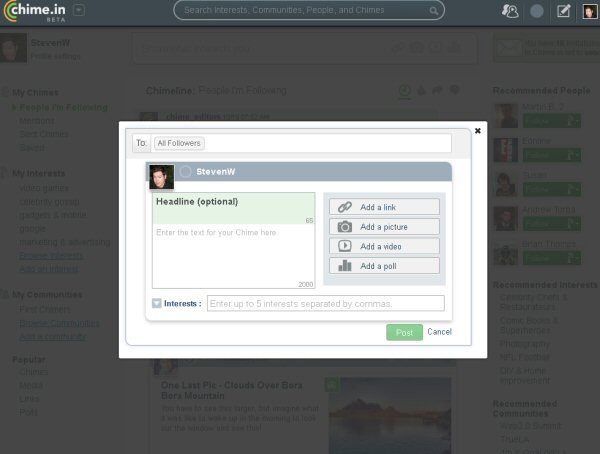 Click for larger image



The fact that you can tag posts with any subjects leaves things open to topics being tagged incorrectly, deliberately or not. A quick browse through some of the topics already in the database indicates that this is occasionally the case, with posts filed with tags that in no way represent the subject.

"Composing a Chime" is as simple as it is on Facebook or Twitter, but Chime.in does give you the tools to add to a simple text post and make it stand out. The option to add a poll is a great addition that we'd love to be able to do on Facebook. You can put a photo behind your poll if you like, pick a question and let people choose from up to four answers. People reading your post can simply tick on the answer they want and it then displays the result in a colourful bar-chart format.

In addition to polls, you can also tap the little icons just underneath your status-update box and post website links, upload photos and videos. It makes everything easy for you by placing all the options around your status-update box to add more "oomph" to your posts.

Down the left-hand side of the Home screen, you can build up your interests by browsing subjects and choosing which ones take your fancy. By clicking on a subject all relevant posts – those that have been tagged with that subject - are displayed down the central panel.

Clicking on "videogames," for example, shows up all those posts that are videogames-related, and with users able to give any post the "thumbs-up" the top post is always the one that is most popular at that time. In the same way that Digg has been ruined by mass voting, it's a system that is in danger of being exploited by websites that have large communities, with "favourite" sites always being top of the pile regardless of quality.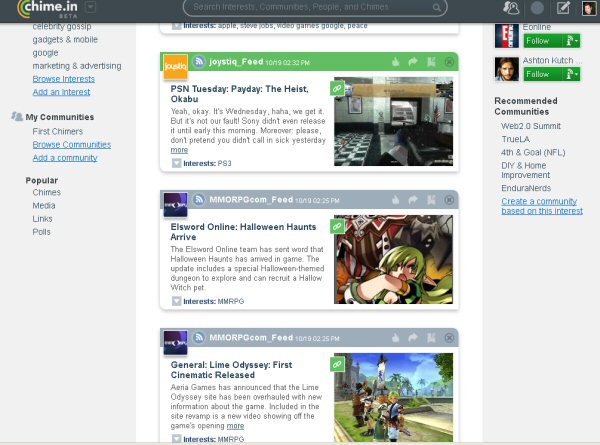 Click for larger image



Nonetheless, you can scroll down and view an infinite number of posts so there's plenty of variety if you seek it. Already Chime.in is packed with people advertising their websites. Most of the topics that you choose show news on that particular subject and inevitably link you to the website to see more.

In the videogames category, for instance, major websites such as Joystiq, IGN and Kotku have already got their size-nines stuck right in churning out news via their RSS feeds. In this respect, if you've only really got a couple of interests it's not really any different to heading to the likes of N4G.com for your videogames news, or newsnow.co.uk for a wider variety of subjects that you can filter.

However, the fact that posts are displayed very nicely, with the majority complemented by pictures and videos, and the ability to switch between topics you like very quickly, is certainly a draw over most of the fairly bland-looking aggregation sites. You can also comment of people's posts and "Like" or share on your page, so it has that appealing social element to it, too.

Chime.in isn't just a news aggregation site. In fact it fuses both social-networking and news-reporting extremely well. You can follow individual people and send messages and receive notifications. You can go one step further by creating a community, like a Facebook "Events page" and chat with like-minded people about subjects you care about. Already, it looks like Chime.in could attract LinkedIn users and professionals, with communities such as "Android" and "Web Developers" currently dominating those channels.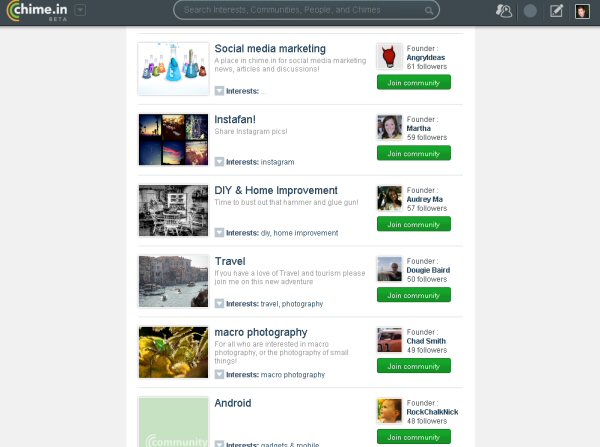 Click for larger image



Chime.in has arrived a little late to the social-networking party, but the fact that it combines some of the features of Twitter, LinkedIn, Digg and Facebook bodes extremely well for its future. And, while social networking isn't its strongest function, it may draw lots of people in by the promise of sharing advertising revenue. That's right – Facebook take note - Chime.in promises to give you 50 per cent of its advertising revenue from adverts displayed on your profile.

"When money is involved, you will get a level of seriousness that is not there when there is no money involved," said Chime.in founder, Bill Gross.

He's not kidding.

You can sign-up, or take a look at here.