Today Facebook has come up with another strategy to make users spend even more time ferreting around their social network pages. Pages classified as those of musicians, bands and artists now have a new button at the upper right area of their timeline, right next to the Like button, it's the Listen button. See it on the official Elvis Facebook page where over 2,000 Elvis fans have already liked the news about the new Listen button!
The idea is that while you are checking the latest news from your favourite musician/band you can just click up there and Spotify, or one of the Facebook supported music apps, will start playing music from that band/artist, frictionlessly. In the US some of the music streaming apps are; Rdio, MOGand Slacker Radio. Here in the UK I was directed to Deezer.
Facebook says "The new button will give music fans an easy way to listen to songs through their favourite services, such as Spotify and MOG, directly from Facebook Pages. After clicking the button, the music service the person uses most frequently will begin playing songs from that artist. Because the music services are timeline apps, listening activity will be posted to timeline as it happens."
Other commentators say this move by Facebook is an attack at the last of what remains of MySpace. Also there are several Facebook music playing apps covering this area of functionality that may be feeling a little redundant now.
How it worked for me
Clicking on the Listen button opened a dialogue box asking me if I wanted to open Deezer or Spotify. Then a new browser tab opened if Deezer was chosen, or my Spotify app on the computer opened if that was chosen, music started playing. Going to a different Facebook band/artist page and pressing Listen then failed with Deezer, in this instance, because they don't have any David Bowie tracks… So I closed the Deezer tab, pressed the Listen button again and chose Spotify, which had a lot better selection. There doesn't seem to be an option to avoid the Facebook app and dialogue box and just always use Spotify. As such this Deezer is going to get deleted right now from my Facebook apps.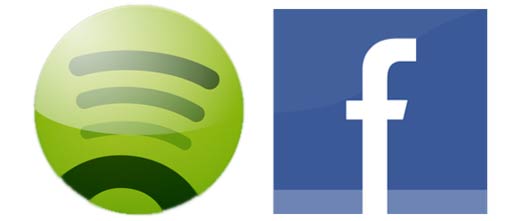 Spotify music player shares/likes on my Facebook news page play right there; no new open tabs etc, and I was expecting more of that type of embedded streaming functionality from this Listen button. I'll just continue to listen to my WMP which already has all my favourite musicians playlists in; my musical likes in Facebook are of my favourite musicians so it's pretty much duplicate content to what I already own. For discovering new music I think searching a band/artist name or even genre that has caught your interest works better on YouTube.