Now web authors, Tumblrs and bloggers can embed songs and playlists from Spotify's huge music library for free into their own web pages. The new service introduced yesterday, The Spotify Play Button, alloys visitors to your website to listen to the songs and playlists you have selected without leaving your website. As Spotify put it "All your fans have to do is hit play to enjoy the music. Totally free. Totally legal. Totally awesome." Previously this kind of Spotify sharing was only available within Facebook.
Spotify is a frictionless way to share music online, it's advert supported for free users but also offers premium no-ads versions of the service with more features for a subscription fee. In the USA alone there are about 3 million Spotify users of which 600,000 pay for the premium service offering. Worldwide there are about 10 million Spotify users, making it the second most popular online music service after Apple's iTunes.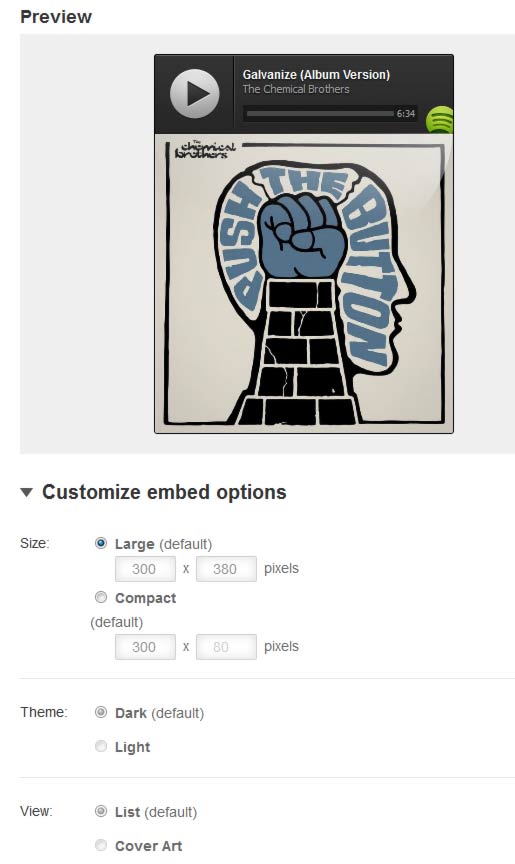 Configuring how the widget will appear on your page or widgetised area
The widget is very easy to configure and customise but visitors to your web pages containing the widget will have to be signed-in Spotify users already to be able to listen to the music. This makes the widget somewhat less universal compared to the way YouTube videos can be embedded for anyone to watch. The Spotify blog said the new widget is "Making it even easier to share and discover music, the Spotify Play Button is a simple yet extremely powerful music widget that makes it easier than ever to deliver all the world's music to fans of your website or blog." A source at Spotify also said that the Play Button will make web music streaming less fragmented, be of better quality than alternatives and offer a freely available tool to enable legal sharing of your favourite tracks.
If I was a Spotify user I might now be tempted to embed a playlist of my favourite Space Rock tracks right here now into HEXUS news, but you're lucky I am not… Spotify mentions several big names already using the service upon their pages such as Time Out, Rolling Stone, Mashable and The Huffington Post.