Gunning for Kindle
Remember the 9in touchscreen e-reader announced by ASUS earlier this week? Well, a bunch of images showing the upcoming device out in the wild just landed in our inbox.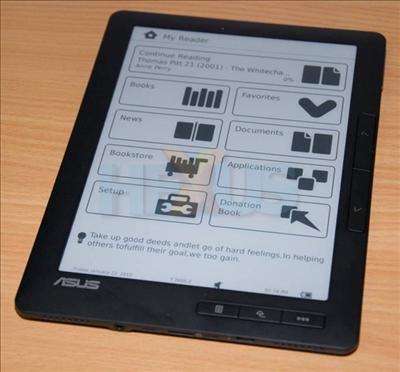 In case you missed the details first time around, ASUS' reader features a 9in Sipix touchscreen display offering a 1,024x768 resolution and 16 shades of grey. There's no physical keyboard as a result of the aforementioned touchscreen, but there is a virtual alternative as well as handwriting input, too.
Text-to-speech features as standard, as does an RSS reader and dictionary, and ASUS has also thrown in a built-in web browser that'll work in both portrait and landscape modes. Connectivity comes in the form 802.11g, HSPA and WiMAX, and though there's no mention of content partners yet, the DR-950's 4GB of built-in memory and SD expansion slot should provide plenty of storage for your TXT, PDF, ePub, MP3 and Audible files.
We're still missing the all-important launch date and pricing details - for both the pictured DR-950 and the 6in colour DR-570 - but three more pictures, including a useful iPhone size comparison, are available after the page jump.