Virgin Media has today introduced its most affordable route to high-definition TV with the unveiling of its new V HD Box.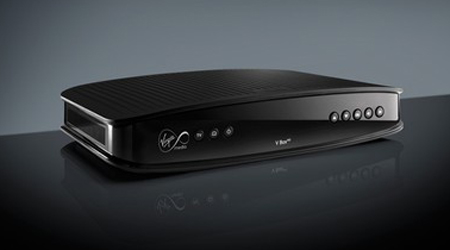 The Cisco-built receiver, pictured above, is scheduled to become available on March 22nd at a cost of £49 plus installation to new-and-existing customers subscribing to Virgin Media's M+ TV package, currently priced at £5.50 per month.
In addition to the 65 channels on offer from the M+ package, the V HD Box will also be able to receive Virgin's growing line-up of HD channels. BBC HD, 4 HD and ITV1 HD will be available to all M+ subscribers, with a further 10 HD channels becoming available via Virgin Media's premium XL TV package.
Unlike its range-topping V+HD Box, the new mainstream V HD Box doesn't incorporate multiple tuners and a built-in hard drive, and therefore won't allow users to record one channel whilst watching another. Designed instead to make "high-definition TV available to more people at affordable prices", the new receiver offers a cheap route to HD TV in time for the 2010 World Cup and also offers support for Virgin's extensive library of on-demand content.
The V HD Box features HDMI, SCART, USB and Ethernet ports, and a "best-in-class power saving function" that claims to cut power use by 95 per cent when in stand-by mode.
The receiver arrives at a time of increased competition for Virgin Media. Free-to-view digital TV service Freeview HD is expected to make available HD broadcasts to 50 per cent of the country in the coming months, whilst rival subscription-based broadcaster Sky continues to hold the upper hand in terms of HD programming quantity, and will soon introduce its first 3D TV channel. Suggesting that 3D TV will be part of its future, Virgin Media adds that its V HD Box is "3D-ready".
Press release: Virgin TV Customers to See the HD Clearer Picture for No Monthly Fee