At Mobile World Congress 2009, Microsoft CEO Steve Ballmer has introduced the software-driven future of its Windows Mobile platform.
In the face of increasing smartphone competition from the likes of Apple and BlackBerry to name just a few, Microsoft's first port of call is to rebrand its next-generation devices to simply "Windows Phones". Whether or not a Windows Phone sounds as appealing as an iPhone remains to be seen, but it's the first of many changes.
At the heart of a Windows Phone, Microsoft's Windows Mobile operating system will be delivering an increasingly touch-friendly experience. Windows Mobile 6.5, the latest version of Microsoft's seemingly-tired operating system, has been officially announced today but isn't expected to appear on third-party handsets until the second half of 2009.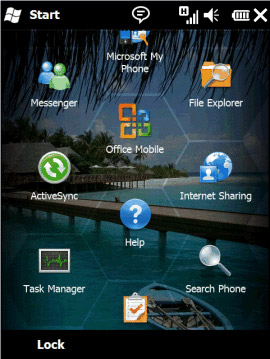 The widely-used operating system has been modernised rather than overhauled, and will feature a honeycomb-like dashboard that aims to provide finger-friendly access to commonly-used functions. In keeping with the improved-functionality trend, dashboard icons can be easily arranged and Windows Mobile 6.5's all-new lock screen displays useful information such as missed calls and messages.
Windows Mobile 6.5 will also feature a revised version of Internet Explorer Mobile. It will offer full support for Flash and JavaScript, and provide improved navigation tools.
Despite the seemingly-minimal upgrades to its operating system, Microsoft has expanded on the Windows Phone ecosystem by announcing additional software services that could help the Redmond giant claim an edge over rival manufacturers.
The upcoming Windows Marketplace will be available on all Windows Phones that feature Windows Mobile 6.5, and will provide users with the ability to purchase direct-to-phone applications in a fashion similar to Apple's hugely-popular App Store. The term Windows, clearly, is being used to attract customers familiar with Microsoft's desktop platforms.
Completing today's announcements, Microsoft's My Phone service will allow users to backup and sync their mobile-based data to the cloud. The free software will allow for automatic synchronisation, ensuring vital data such as contacts, meeting schedules and messages are always backed up - consequently allowing for simpler transitions to newer handsets.
The question remains, with Windows Mobile 6.5 still months away, will the added refinements be enough to make a Windows Phone a compelling package? To remain competitive in the fierce mobile space, Microsoft may need to rely on a complete overhaul - and that isn't expected to arrive until 2010 in the form of Windows Mobile 7.