Perfect for the YouTube crowd
Creative has today launched its Vado pocket video camera, a device aimed specifically at the YouTube crowd.
The camera, which weighs less than 90g and is slim enough to fit into most pockets, features a two-inch LCD screen with a 640x480 resolution. There's 2GiB of on-board memory, a removable rechargeable battery, a USB connector, and to top it all off, built-in software that'll upload your videos directly to sites such as YouTube and Photobucket.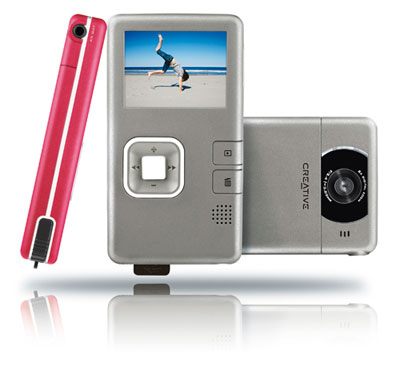 Mark Grover, European Brand Manager with Creative, says:
"When people are having a really great time the Vado is always there, ready to capture those once-in-a-lifetime moments that just happen when you least expect them. It's so easy to use and can record up to two hours of high-quality video at the push of a button. There are no tapes or disks to worry about and it has 2GB of built-in memory plus a removable, rechargeable battery, so there's no hassle with disposable batteries."

"Just compare the Vado with conventional cams. They're often tucked away in a bag for protection and are hardly ever ready when you need them… so many spontaneous moments are lost while people try to find a tape or disc. And then getting those recordings onto a PC or the web can be very complicated! For simplicity and spontaneity, the Vado fills the bill."
I don't recall being left trying to find a tape or disc for a number of years now, but hey, the YouTube faithful are sure to latch onto this device. Just take a look at this hypnotic promo ad:
Both the pink and silver models are now available in the US for $99. Though the camera is expected to be available from PC World soon, we're still awaiting an official UK price.