Another young internet based business, another Wall Street disappointment. Groupon, the world's largest daily deals provider released results showing revenue was lower than expected by investors. Expectations play a big part in share values so Groupon shares took a tumble of over 18 per cent in afterhours trading.
The numbers
2012 Q2 revenue was $568 million compared to 2011 Q2 figure of $393 million
2012 Q2 net income was $28.4 million compared to 2011 Q2 figure of -$107.4 million
Groupon now has 38 million active customers, 65 per cent up from a year ago
Shares were launched in November last year at $20, peaked at $31 and are $6.14 right now (afterhours in New York, they closed at $7.55 before this news came out)
Profits and losses
Groupon's profits of $28.4 million for Q2 reverses the loss of $107.4 million a year ago but the market was expecting a higher figure from the range forecasted by Groupon earlier in the year. The Q2 2012 revenue forecast by Groupon was in the range of $550 million to $590 million with Wall Street expecting a figure around $573 million according to Reuters. From this revenue Wall Street expected net income in the range of $70 million to $80 million. This is how, even though Groupon made a profit, a much better result than a year ago, investors were disappointed.
Blame Europe
Andrew Mason, Groupon's chief executive, said "We had a solid quarter despite challenges in Europe and continued investment in technology and infrastructure." He said higher priced deals in Europe needed more balance with lower price accessible offers. "We've learned in North America that the best way to maximize gross revenue dollars for Groupon is to find the right balance between consumer and merchant value". He is positive that the American success can be repeated in Europe by some fine tweaking "By doing so in Europe, we have a clear opportunity to unlock growth and achieve the same kind of market penetration of Internet users that we have in North America."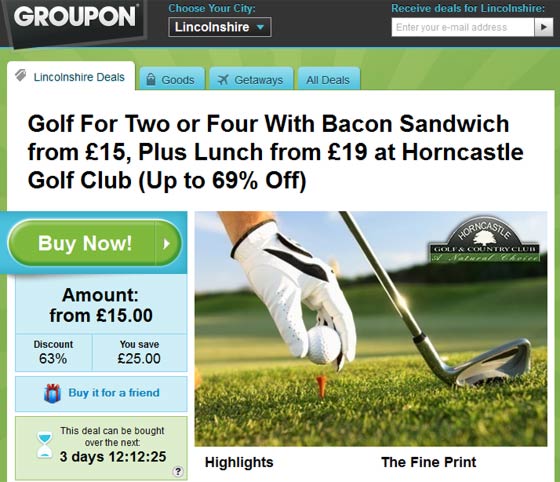 Do you need a fish pedicure?
Does anyone find Groupon to be a good and useful source of deals? Do we need it in the UK when HotUKDeals offers user selected and member mass rated deals, vouchers and freebies? Also don't forget the HEXUS Current Bargains forum aimed at your IT shopping requirements!